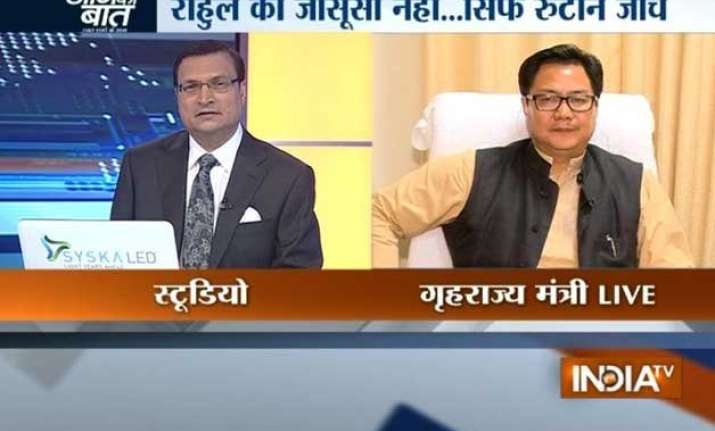 In an exclusive interview with India TV Editor & Chairman Rajat Sharma, Ministry of Home Affairs, state Kiren Rijiju disclosed that the government knows the whereabouts of congress leader Rahul Gandhi but he would not reveal it because the Congress party would make an issue out of it. Rahul Gandhi has SPG cover which is regulated by the Indian Government
On being asked about the necessity of filling Pro Forma, the minister said prominent political leaders need security and a special branch of Delhi Police takes care of the security arrangements of such leaders in the national capital. This procedure is being followed since 1957.
Reju also agreed with Mr. Sharma that some of the provisions in the pro forma have become outdated and it should be replaced with an updated digital format.
However, Rijiju alleged Congress party of making undue hue and cry over this matter.  He also said that Rahul Gandhi is a national leader and the country has every right to know about him like other political leaders.  
Earlier, a major controversy was erupted after Delhi Police's special branch officers had visited Rahul's 12, Tughlaq Lane residence on March 3 to collect personal details of the leader.
Meanwhile, Delhi Police Commissioner BS Bassi today submitted report to Ministry of Home Affairs (MHA) in Rahul Gandhi snooping case.