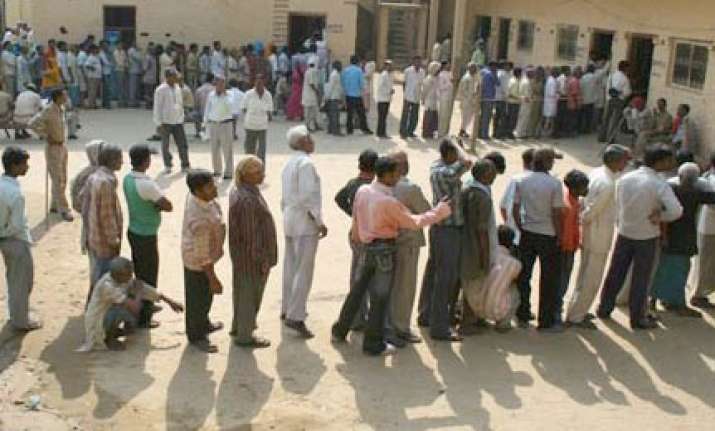 About 52 per cent polling was recorded in 26 constituencies in the first of the five-phase assembly elections in Jharkhand amid air surveillance and tight security on Wednesday Election Commission officials said in Ranchi.
Barring a few skirmishes, polling was by and large peaceful. As many as 6,532,234 voters exercised their franchise in 8,176 booths to decide the electoral fortunes of 470 candidates, including 34 women, they said.
The polling began at 7 am and ended at 3 pm. The opening and closing time for the polling has been advanced in view of Naxal threats and election boycott announced by the left wing extremists in the constituencies.
 Prominent among the 470 candidates were former deputy chief minister Stephen Marandi and former assembly speaker Alamgir Alam (both Congress), Suraj Mondal and Hemlal Murmu (both JMM).
The high-pitch campaigning for the first phase saw the multi-crore money laundering case allegedly involving former Chief Minister Madhu Koda and his associates raised by different parties, with Congress and BJP blaming each other for "nurturing" Koda.
The second phase polling will be held on December 2, the third phase on 8th, fourth on 12th and the fifth on 18th of the month. The results will be announced on December 23.
The bodyguard of JMM nominee Suraj Mandal was suspended for opening fire following a scuffle at Poreyahat assembly constituency in Godda district.
"Nobody was hurt in the incident. The guard has been placed under suspension and an FIR was lodged with Poreyahat police station," Additional Chief Electoral Officer Sailesh Kumar Singh said.
The guard was provided to the former MP, who contested from Poreyahat seat, by Jharkhand Police. PTI