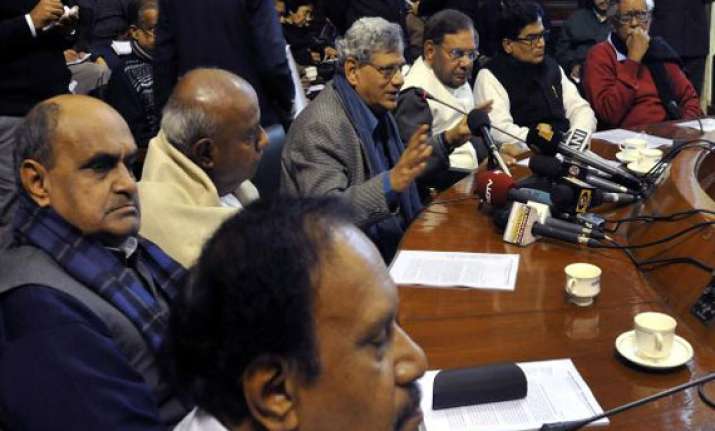 New Delhi: In indications of emergence of a Third Front ahead of Lok Sabha polls, 11 non-Congress and non-BJP parties today formally joined hands as a bloc in Parliament to pitch for pro-people, anti-communal and federal agenda.
The announcement was made at a joint press conference of leaders of these parties including the four Left parties, Samajwadi Party, JD(U), AIADMK, AGP, Jharkhand Vikas Morcha, JD(S) and BJD.
CPI(M) leader Sitaram Yechury and JD(U) President Sharad Yadav said this was the "first step" after the parties came together in October last for an anti-communal convention here.
"The block has been set up primarily to raise issues affecting the people in Parliament," Yechury said when asked whether it should be called a third front.
"Don't get into abstractions. We are all here (from various parties) sitting together. You can see us all together. Whoever claims of talking to someone or some party is all a claim and therefore is an abstraction," he said when asked about Trinamool Congress chief Mamata Banerjee's call for a federal front.
Referring to the six anti-corruption bills being pushed by the government, he said the 11 parties will ensure that no bill is passed amid din as the ruling party and UPA could use the legislations to launch their poll campaign.
Besides former Prime Minister H D Deve Gowda, the press conference was attended by M Thambidurai (AIADMK), Basudeb Acharia (CPI-M), K C Tyagi (JD-U), Jay Panda (BJD), Biren Baishya (AGP) and Ramgopal Yadav (SP), D Raja (CPI), Manohar Tirkey (RSP) and Barun Mukherjee (Forward Bloc).
On Congress bid to get six anti-graft laws passed, Yechury said, "While we have been raising these issues for a long time, Congress has brought these up only now after remaining in power for five years. We want to have a debate on them, but it is the prime responsibility of the ruling party to create conditions to have such a discussion in the House.
"We saw today that Congress members and even their Ministers are on loggerheads over Telangana. They are vociferously and angrily divided and disrupting the House. They are actually helping communal forces," Yechury said.
"We will not allow them (Congress) to use this as a launching pad for elections," he said.