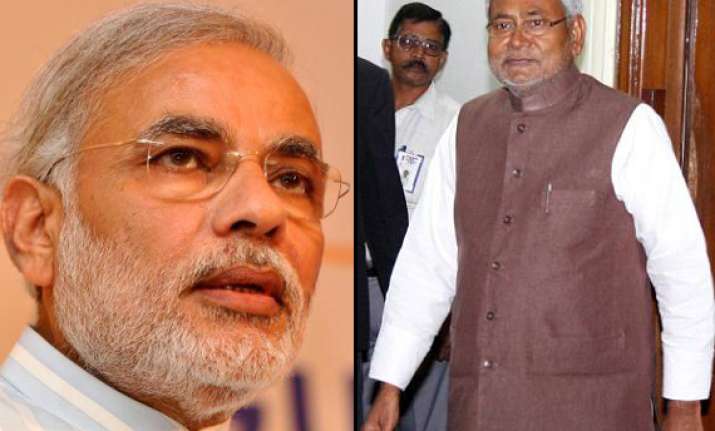 Patna, Sep 17: Gujarat chief minister Narendra Modi's 62nd birthday was celebrated by the BJP in Bihar on Monday, with a state minister cutting a cake at the saffron party office.
Animal husbandry and fisheries minister Giriraj Singh, a vocal supporter of Modi, cut the 62-kg cake at the BJP office where the occasion was celebrated under the banner of the Narendra Modi Fans Association (NMFA).
Chief minister Nitish Kumar also greeted his Gujarat counterpart and wished him a long life.
Asked about Giriraj Singh cutting the cake, Kumar said, "What is there to object about? ..... I too take this opportunity to wish Modi a happy birthday and a long life.
"But my only regret is that Girirajji did not offer me a piece of cake," the chief minister chuckled.
The animal husbandry and fisheries minister had publicly backed Modi's candidature as the BJP's prime ministerial candidate in the next general elections and virtually risked his continuation in the council of ministers headed by Nitish Kumar, who has steadfastly opposed his Gujarat counterpart's prime ministership.