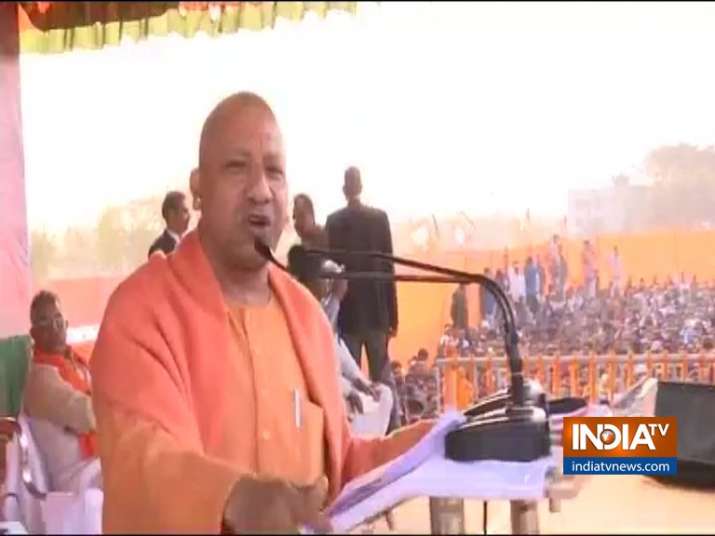 Uttar Pradesh Chief Minister Yogi Adityanath, who was denied permission by the West Bengal government to land his chopper in South Dinajpur district on Sunday, addressed a public in Purulia district of West Bengal on Tuesday. This time, Yogi Adityanath took the road route to enter the state.
The UP CM travelled to West Bengal's Purulia district by road from Bokaro in BJP-ruled Jharkhand to address the rally.
The BJP had on Monday said Adityanath's proposed rally in Bankura district scheduled for Tuesday was cancelled as the Trinamool Congress (TMC) government was was "dilly-dallying" on giving permission for the landing of his helicopter.
In an early morning tweet, Adityanath said, "It saddens me that Gurudev Tagore's Karmabhoomi, our Bengal today is suffering from anarchy and misrule of Mamata Banerjee government. Now is the time that West Bengal is freed from this government to protect the Constitution through a strong democratic movement."
In another tweet, he said, "...and that's why I will stand today in Purulia holding the flag of this movement challenging the alliance of corrupts."
Yogi Adityanath in Purulia: Highlights
# Nothing can be more shameful for a democracy than a Chief Minister sitting on a dharna, says UP CM Yogi Adityanath
# Mamata allowed Muhurram, stopped Durga Puja, says Yogi Adityanath 
# West Bengal will soon get rid of dishonest government, says Yogi Adityanath
# Mamata Banerjee trying to save Saradha chitfund accused, says Yogi Adityanath
Purulia rally by UP CM comes amid a full-blown face-off between Banerjee government and the Centre. The war erupted on Sunday after a CBI team moved to arrest West Bengal Police Commissioner Rajeev Kumar, which in turn detained five officials causing a high voltage drama.
A team of five CBI officers, who went to arrest Rajeev Kumar at his residence in connection with Saradha chit fund scam, were not allowed to enter the police commissioner's house. The CBI officers were detained by police in Kolkata and were later released.
(With inputs from agencies)