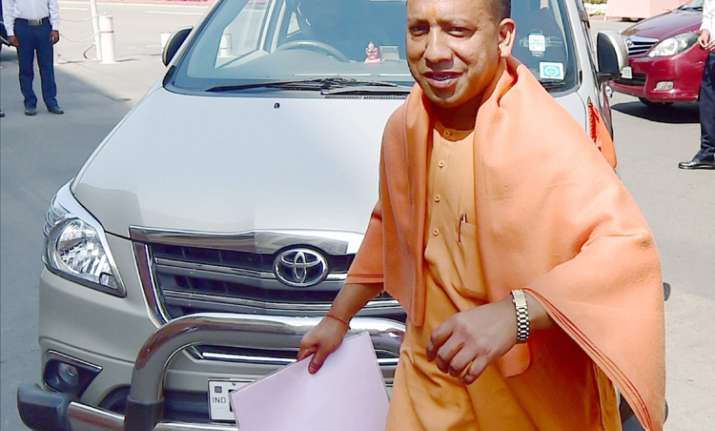 A day after being sworn in as the 21st Chief Minister of Uttar Pradesh, Yogi Adityanath has cracked down on the VIP culture in the state, ordering that no minister in the state will be allowed to use the red beacons atop vehicles. 
The move comes days after Punjab Chief Minister Captain Amarinder Singh put to end the use of red beacons on top of ministers' vehicles. All the beacons have been removed from the vehicles of Punjab Chief Minister and his council of ministers, after Amarinder's decision.
Days later, Yogi Adityanath has followed suit and implemented the measure in the state.
On his first day as the new CM, Yogi Adityanath had a busy day. In his meeting with the UP police chief Javeed Ahmed, Yogi expressed concern over the killing of a BSP leader in Allahabad last night. Motorcycle-borne miscreants allegedly killed BSP leader Mohammed Shami in Allahabad on Sunday night.
In his meeting, the new UP CM further directed him to come up with a blueprint for better policing in Uttar Pradesh within 15 days. 
In a meeting with the secretaries of different departments of the Uttar Pradesh government in Lucknow, Yogi Adityanath asked all officials to disclose all details of their assets before the government and gave them 15 days for the exercise. The move follows a similar directive to the ministers of the new government.  
UP CM Yogi Adityanath directs all Govt officials to provide details of their movable & immovable properties and income tax within 15 days pic.twitter.com/Y61F3qe14u

— ANI UP (@ANINewsUP) March 20, 2017
Lucknow: CM Yogi Adityanath holds meeting with senior officials of all depts in Lok Bhawan. Dy CMs KP Maurya, Dinesh Sharma also present. pic.twitter.com/buYzVCUCNn

— ANI UP (@ANINewsUP) March 20, 2017
In his interaction with top government officials, Yogi Adityanath who was flanked by his deputies Keshav Prasad Maurya and Dinesh Sharma, asked the officials to devise programmes for the people in tune with the BJP's 'Sankalp Patra' which was later given out to officials. All officials present were asked to introduce themselves and talk about the work they have undertaken in the past.
UP Govt officials reach with BJP's 'Sankalp Patra' in the meeting chaired by UP CM after they were directed to bring the same in meeting pic.twitter.com/yqWQGoeUBn

— ANI UP (@ANINewsUP) March 20, 2017
Jobs, the new CM told officials, should be based on merit and assured them that there would be no political interference or influence right down to the last mile. He also asked officials to ensure that they do not tolerate any influence on their part as well. The officials were also asked to take an oath of honesty, cleanliness and transparency.
Lucknow: UP CM Yogi Adityanath during meeting at Lok Bhawan asked officials to read the BJP's 'Sankalp Patra' properly & implement it

— ANI UP (@ANINewsUP) March 20, 2017
Yogi Adityanath has already warned his cabinet ministers to refrain from speaking to the media, except Shrikant Sharma and Siddharth Nath Singh, who will be the spokespersons for the newly-formed UP government. 
On Sunday, soon after the swearing-in ceremony, Yogi Adityanath, in a strong message against corruption, had asked all the ministers in his cabinet to provide their income, moveable and immovable assets within 15 days. 
In an interaction with the media, Adityanath had said that his government will follow Prime Minister Narendra Modi's 'sabka sath sabka vikaas' ideology.