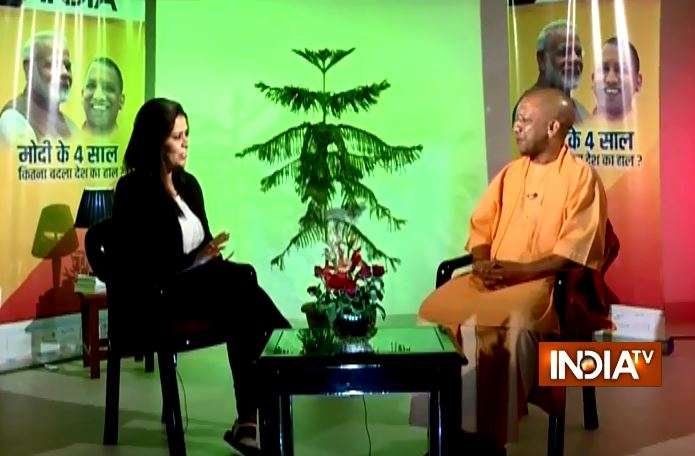 If the Bharatiya Janata Party (BJP) has to retain power in 2019, it must repeat its 2014 show in Uttar Pradesh. The BJP had sweeped 71 of the 80 Lok Sabha seats in UP and the party is aware that it can't afford to lose its grip. While the Opposition parties - Samajwadi Party (SP), Bahujan Samaj Party (BSP) and Congress - are trying their bit to challenge the BJP, UP CM Yogi Adityanath is confident that 'Modi magic' will work again in his state.
In an exclusive interview with India TV on the occasion of 4th year anniversary of the Modi government, UP CM Yogi Adityanath said that it is for the first time since independence that a government has not only formalised but also implemented policies keeping its focus on women, youth and farmers of the country. 
4 years of Modi govt: Full Coverage
Yogi Adityanath said that the amount of work done during Modi government's 48-month rule is way beyond what Congress could do in the past 48 years when it ruled the country.
Talking about the upcoming Lok Sabha bypolls in Kairana and Noorpur, which many consider as a big test for the BJP ahead of next year's general elections, Adityanath exuded confidence that his party will both the seats.
"We will both Kairana, Noorpur seats. This is a bypoll, there are local issues as well. But it is evident that the Opposition is worried. They have come together on one stage as they could also sense that their existence is under threat," Adityanath said referring to top Opposition leaders attending Karnataka CM HD Kumaraswamy's oath taking ceremony in Bengaluru a couple of days ago.
Here's what all Yogi Adityanath said: 
 # The Opposition realises that it will be jobless if Modi continues to rule and this is the reason they are using dirty tricks like issuing fatwa against the BJP government.They did this in northeast and now they are doing it in Kairana. The Opposition asked Jamiat to issue a fatwa asking people not to vote for the BJP.
# When we came to power in UP, mass migration from Kairana was a big challenge infront of us. But I am happy to say that withing one year we controlled the situation. An investment of nearly Rs 300 crore was committed for Shamli, Kairana. Situation has changed now...now it is the criminals who are migrating.
# Some people raised questions over our intentions asking what will be the real issue in UP ganna (sugarcane) or Jinnah? We have been provided ample support to sugarcase farmers in the state. We have provided them more price of their product.
# Talking about the recent controversial letter issued by the Archbishop of Delhi which stated that India was facing "turbulent political atmosphere" which has threatened the democratic principles of the Constitution and country's secular fabric, Yogi Adityanath said there was a desperate attempt to malign the Modi government. Such statements not only shows India in bad light but also hampers disturbs communal harmony. Adityanath said the Modi government has never divided the society of communal lines. Such statements are shameful and should be condemned, he said.
# When asked about the recent remarks by his Haryana counterpart ML Khattar that namaz should be read in mosques and on roads, Yogi Adityanath said that the statement should be looked upon with the right perspective. I won't even allow people to read Hanuman Chalisa right in the middle of the road blocking the traffic inconveniencing several others. Be it puja or namaz there's a place designated for it, he said. I have asked authorities to provide all facilities and security at mosques during the holy month of Ramzan, he added.
Watch: Yogi Adityanath's EXCLUSIVE interview