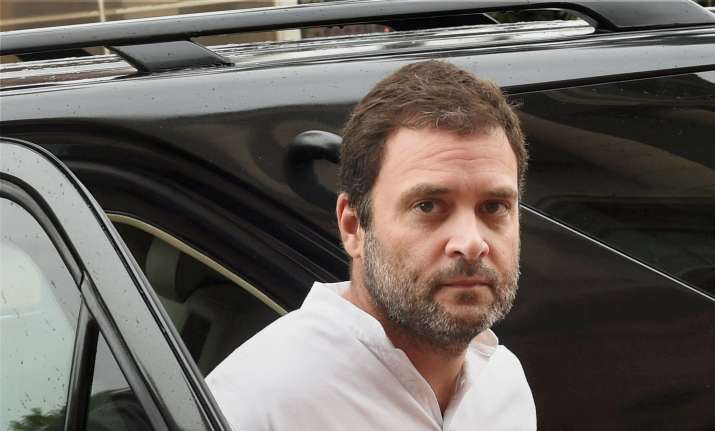 Launching a scathing attack on Prime Minister Narendra Modi, Congress vice-president Rahul Gandhi today alleged that his wrong policies have burnt Kashmir.  "I have been saying it for a long time that wrong policies of Narendra Modi and NDA have burnt Kashmir," Rahul Gandhi told media persons inside the Parliament premises. Rejecting offers of mediation between India and Pakistan on Kashmir, Rahul Gandhi said that it is an internal matter of India and outsiders have no role to play in this matter. "Kashmir is India, India is Kashmir. This is our internal matter. Others have nothing to do with it," he added.China had recently said that it was willing to play a "constructive role" in improving Indo-Pak ties, especially after the increased hostility along the Line of Control.
नरेंद्र मोदी जी और NDA की नीतियों ने जम्मू कश्मीर को जला दिया है

— Rahul Gandhi (@RahulGandhi) July 21, 2017
Kashmir is India, India is Kashmir- ये हमारा internal matter है, इसमें किसी और का कुछ लेना देना नहीं है

— Rahul Gandhi (@RahulGandhi) July 21, 2017
India, however, rejected the Chinese offer saying it is in favour of  bilaterally resolving all matters with Pakistan, including  the issue of Jammu and Kashmir. 
Earlier in the day, National Conference President and former Jammu and Kashmir Chief Minister Farooq Abdullah said that Pakistan is a party to the Kashmir dispute and the issue should be resolved by talking to them.
"Trump himself said that he wants to resolve the Kashmir dispute. Even China said that they want to mediate on this issue," Farooq Abdullah said.
"We should use friends for talks. War is not a solution because both India and Pakistan have atom bombs," he added.