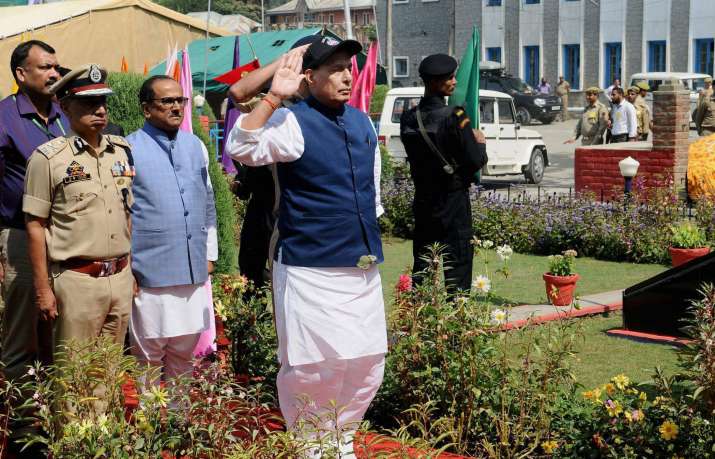 Amid concerns raised by Kashmir-based groups over Centre's stand on Article 35A of the Constitution, Home Minister Rajnath Singh on Monday said the government will not go against the sentiments of people. 
Talking to reporters in Srinagar, Rajnath, who is on a four-day visit to Jammu and Kashmir, said, "We will not go against sentiments of people. There are no issues left that is why such issues are being raised." 
Rajnath had yesterday met a delegation of the opposition National Conference, led by former chief minister Omar Abdullah, over the issue. The delegation conveyed to Rajnath the party's concern over the Centre's ambiguity in defending Jammu and Kashmir's special status under Article 35A of the Constitution. 
Rajnath, who heads to Jammu after spending two days in the Kashmir Valley, said he was willing to talk to anyone and invited everyone "who is willing to help us in resolving problems of Kashmir."
"I am willing to meet anyone who wants to help us in resolving problems of Kashmir.There is no question of a formal or informal invitation. Those who want to talk should come forward. I always come here with an open mind," Singh said when asked if the government was ready to hold talks with separatists. 
He said the government does not want to leave out any of the stakeholders with whom dialogue should be held. 
The minister is heading to the Jammu region today where he will also visit the forward areas on Indo-Pakistan border.
Before his scheduled visit to the border, Rajnath urged Pakistan to stop infiltrating terrorists into Jammu and Kashmir.
He added that situation in Kashmir Valley has improved as compared to last year. 
"After meeting the delegations and holding meetings here, I understand that the situation in Kashmir has greatly improved.I don't want to claim that everything is completely fine but things are improving, this I can say with firm belief," Singh said. 
He said the permanent solution to Kashmir issue is based on five 'C's -- compassion, communication, coexistence, confidence building and consistency. 
He said during his visit he has interacted with police and CRPF personnel and he will also meet Army personnel.