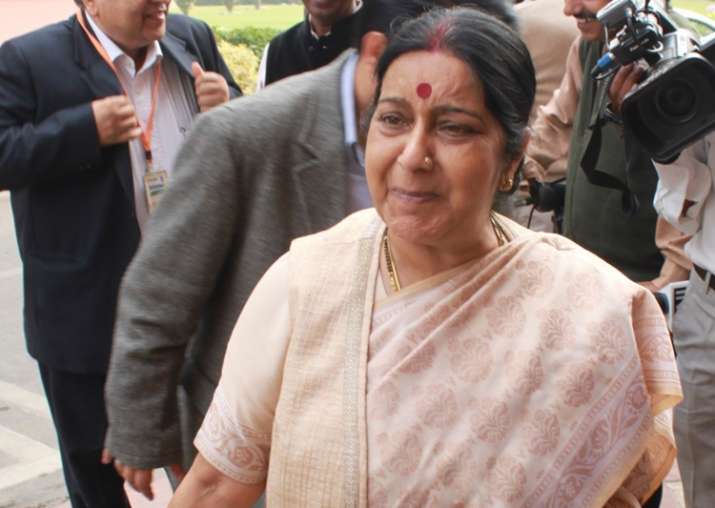 External Affairs Minister Sushma Swaraj today refuted opposition parties' charge that she was misleading the nation on whether the 39 Indians taken captive in Mosul three years ago were alive or dead. Speaking on the floor of the Lok Sabha, Swaraj said that 'she has no substantial evidence' to declare that all Indian nationals were dead. 
"It is very easy for me to declare them dead. Why will I mislead them? Those who want to believe that the missing Indians are dead, they are free to believe it. But the government won't declare it without proof," she said.
The minister said that 'files will not be closed unless we are convinced that they are dead', adding that 'credible sources have told the government that they all are alive'.
"We had six sources claiming that the missing Indians were alive. We have talked to all countries that could have helped in tracing those missing Indians," she said.
She further said that government will make all possible efforts to trace the Indians and expressed hope that they are alive. "There are many instances that people declared dead come back after ages. I have never said they are dead or alive. We are still waiting for evidence."
The minister had on July 16, based on information gathered by her deputy VK Singh during his visit to Mosul after its recent liberation from ISIS, stated that the abducted Indians may be lodged in the jail, located in northwest Mosul. However, Iraq recently said that it has no 'information about whereabouts of 39 Indians', while confirming that the prison at Badush, their last known location, has been demolished by terror group ISIS. 
According to Iraqi Foreign Minister Ibrahim al-Jaafari, who is in India a five-day India visit, VK Singh's information was based on inputs gathered before its demolition. 
The opposition parties have accused Swaraj of misleading the relatives of all 39 Indians, demanding 'credible, accurate information and strong steps to bring them back'.