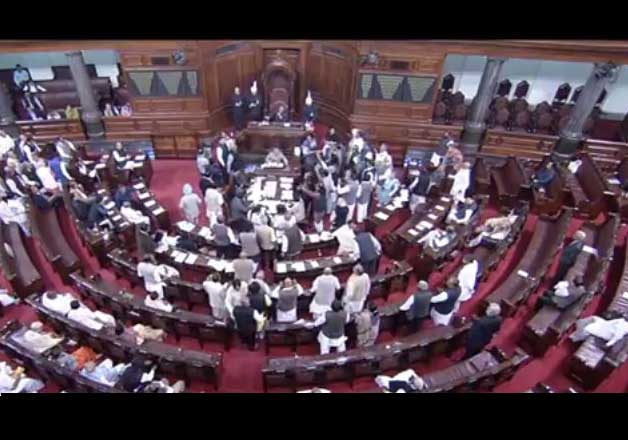 The issue of demonetisation continued to rock Parliament as a united opposition upped the ante against the Narendra Modi-led government and demanded an explanation over PM's abrupt outlawing of Rs 500 and Rs 1000 currency notes.
Meanwhile, Rajya Sabha was adjourned for the second time (till 12 noon) on Monday amid huge uproar over demonetisation.
Speaking in Rajya Sabha, CPI (M) leader Sitaram Yechury urged chairman PJ Kurien to move an obituary to those who have died in queue and at work in banks after demonetisation.
"Debate later, but first accept our tributes for people who have died standing in queues, and other bank officials," Yechury said as the uproar continued.
FM Arun Jaitley said that the opposition was not ready for debate and was trying new tactics everyday to disrupt the Parliament proceedings.
Opposition parties jointly decided that around 200 MPs will hold dharna in front of Gandhi statue on Wednesday, said Trinamool Congress's Derek O'Brien.
The Congress hosted a meeting this morning of opposition parties to encourage a united onslaught over the issue.
The opposition wants a debate on the notes ban in the Lok Sabha, followed by a vote.
The Congress has issued a whip to its parliamentarians to attend the parliament while leaders of opposition parties are expected to meet to chalk out a joint strategy.
 Sources in the opposition camp said there is unanimity among all parties on the need for a comprehensive investigation into prior intimation of the decision to some people, allowing them to convert their unaccounted wealth.
"Many parties are determined to take this matter of selective leakage to the masses and jointly take on the government in parliament. There are other worrisome aspects of the demonetisation decision which we will raise in both Houses of parliament," a senior opposition leader said.
Meanwhile, PM Modi on Sunday sought people's support for his demonetisation decision, saying that the country will emerge victorious after this "test by fire".