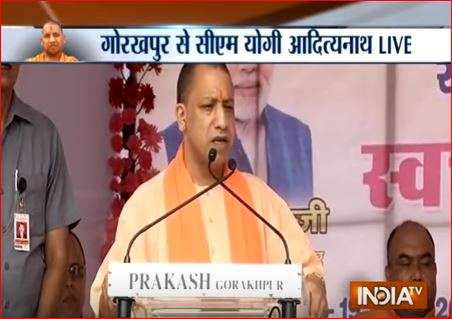 Ahead of Rahul Gandhi's visit to Gorakhpur today, Uttar Pradesh Chief Minister Yogi Adityanath warned the Congress vice president that he will not allow the city to become a picnic spot.
"I feel that the shehzada sitting in Lucknow ..yuvraj sitting in Delhi will not know the importance of this cleanliness campaign. They will come here to make it a picnic spot, we cannot permit it,"  the UP Chief Minister said while launching a cleanliness drive in Andhiyari Bagh in Gorakhpur today.
"If someone gives an open challenge to the self respect of the people of Gorakhpur and eastern UP ...they will themselves come forward to fight such dreaded diseases through their awareness," he added.
Rahul Gandhi is visiting BRD hospital in Gorakhpur  today. More than 70 infants have died in this state-run hospital since August 7 allegedly due to disruption of oxygen supply – a claim the state government has dismissed.
The Uttar Pradesh government held Acute Encephalitis responsible for the tragic death of the infants. However, the opposition alleged that shortfall in the supply of oxygen in the hospital's paediatric wards was the reason behind these deaths. 
Yogi Adityanath slammed previous state governments for depriving people of basic facilities.
"Government in last 12-15 years has ruined institutions in UP for selfish motives by institutionalizing corruption. They kept people deprived of facilities," he said.
Making an appeal to the people of the state to participate in the sanitation campaign, Yogi Adityanath  urged them to make UP a defecation-free state.
"I started movement against Encephalitis; when it comes to it, prevention is better than cure and it starts with sanitation," he added.