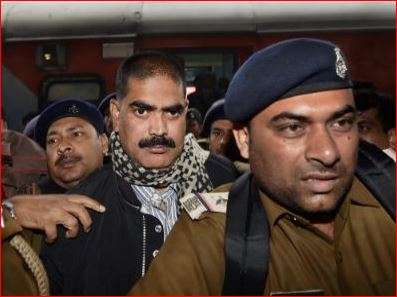 Abdul Ghafoor, Bihar's minority welfare minister, today said that he would not have any hesitation in meeting the convicted former RJD MP Mohammad Shahabuddin at Tihar central jail. 
"I will definitely call on him (Shahabuddin) whenever I will go to Delhi. Will let you people know whenever I will visit the national capital," Abdul Ghafoor told media persons in Patna.
A photograph of Abdul Ghafoor meeting Shahbuddin inside Siwan district jail had gone viral in March 2016 and questions were raised over whether a cabinet minister visiting a convicted prisoner inside the jail is ethical.
Ghafoor, however, disapproved Shahabuddin's remark calling Nitish Kumar  "a CM of circumstances". 
"Nitish Kumar Ji was made CM in a truthful circumstance," Abdul Ghafoor said.
The minister denied any partial role of Bihar government in Shahabuddin-related judicial matters. 
He pointed out that the former RJD MP was recently transferred to Tihar jail at the directive of the Supreme Court and the state government didn't play any partial role in it.
"Bihar government went to the apex court not only in Shahabuddin's case but also in many other cases including those of expelled RJD MLA Rajballabh Yadav, expelled MP Pappu Yadav, BJP MLC Tunnaji Pandey and Gaya road rage case," he said.