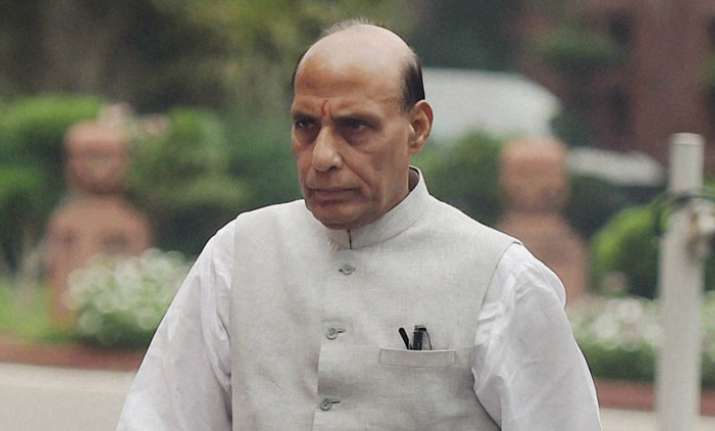 Union Minister for Home Affairs Rajnath Singh today came down hard on Congress vice president Rahul Gandhi for refusing to follow the security protocol during his recent visit to flood-hit Banaskantha in Gujarat. Rahul was shown black flags during his visit to the BJP-ruled state and his convoy was attacked with a stone on his way back. The Congress had blamed 'BJP goons' for the attack.
Responding to the Opposition party's charge in Parliament, Rajnath Singh today said that Rahul refused to pay heed to the security-related advice from the state police as well as the SPG, and only listened to his personal secretary. "There were adequate security arrangements made for Rahul Gandhi's visit. Rahul Gandhi refused to be seated in a car that was arranged for him by the state police," the Home minister said in Lok Sabha today.
Rajnath said that Rahul had refused to take a bullet-proof car that the state police had kept ready for him. This was something that the local police had clarified soon after the attack as well. Even Gujarat's Deputy CM Nitin Patel had said that Rahul was "offered a bullet-proof car by the state government" but he chose to travel by a "normal vehicle".
Rajnath said that Rahul should have followed the protocol and advice related to his security. "He didn't listen to the state police or the SPG. He should have heard them instead of listening to his personal secretary," he said.
Rajnath also slammed the Congress leader for not taking security along during his foreign visits. Rajnath said in Lok Sabha that the Congress vice president was away from India on six occasions for 72 days without taking any SPG security along, posing grave threat to himself.
Shri Rahul Gandhi undertook 121 tours in the last 2 years, out of which there were 100 security protocol violations of not using BR Car:HM

— गृहमंत्री कार्यालय, HMO India (@HMOIndia) August 8, 2017
He was responding to allegations by Congress members that Gandhi could have been killed in Gujarat where stones were pelted on his car last week.
Responding to the issue raised by Congress leader in the Lok Sabha Mallikarjun Kharge, the Home minister said the nation as well as the House want to know what Rahul wants to hide by not taking SPG protection along, when he left India on six occasions totalling 72 days.
"We want to know where did he go? Why didn't he take SPG cover?" Rajnath said in Lok Sabha. The Home minister said that this was not only a violation of SPG Act but also amounted to being negligent to safety issues.
"We want to know what is Rahul Gandhi trying to hide by not taking SPG along on foreign tours when he is a SPG protectee," the minister further questioned.
Earlier, Kharge alleged that if one of the stones had hit their leader, he could have been killed.     
On Friday, Rahul Gandhi's car was pelted with stones during his visit to a flood-affected Banaskantha area in Gujarat but he escaped unhurt, PTI reported. Banaskantha superintendent of police Neeraj Badgujar said a man threw stones at Gandhi's car, breaking its rear glass when he was on his way from Lal Chowk to the helipad in Dhanera. The accused was detained by the police.