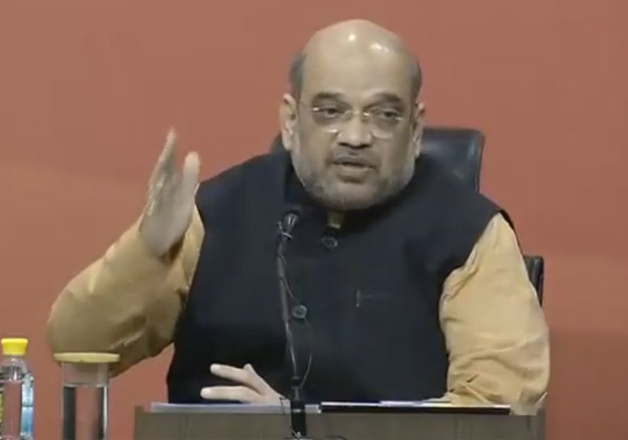 Bharatiya Janata Party (BJP) president Amit Shah today slammed opposition parties for politicising the demonetisation decision and asked them to tell the nation whether 'they are with corrupt or honest'.
Addressing the media here, Shah praised the government's decision saying 'it is a blow to terrorists, naxalites, fake currency and hawala operators'.
He also asked common people not worry and don't heed what the political parties saying as they aim to create panic in the society. 
"I appeal to the citizens of the country to support the decision of the govt to fight black money. There could be some inconvenience, long queues at ATMs, but I appeal people to cooperate," Shah said.
"Move will not affect poor. It (demonetisation) will only affect corrupt people," added the BJP President.
Shah also rejected opposition parties allegations that the decision was taken with an eye on Assembly polls in five states next year. 
"Government made the move to clear black money. That is why there will be 200 penalty. This decision has nothing to do with polls," he said.
"What is making political parties so jittery? Are you with corrupt or honest? Whether you are for or against black money, terror funded by fake notes? Please tell the nation your stand," he said. 
Specifically calling out Delhi CM Arvind Kejriwal and Congress vice president Rahul Gandhi, he said, "Why are you (Arvind Kejriwal and Rahul Gandhi) so worried? They should make clear whether you support weeding out black money."
Attacking the West Bengal Chief Minister Mamata Banerjee, who slammed the demonetisation as 'draconian', the BJP president said, "I know Mamata Banerjee opposed the move, but politicians shouldn't join rank of black marketeers, drug dealers who are upset."
Responding to a question whether senior BJP leaders were informed about the demonetisation, Shah said, "Nobody except those in constitutional and administrative posts knew about decision beforehand."
The BJP president further requested the media to support the government in this move to eradicate corruption and the institution of black money from the country.
Opposition parties have been attacking the Modi government over its sudden decision to scrap Rs 500 and Rs 1,000 notes to fight black money.