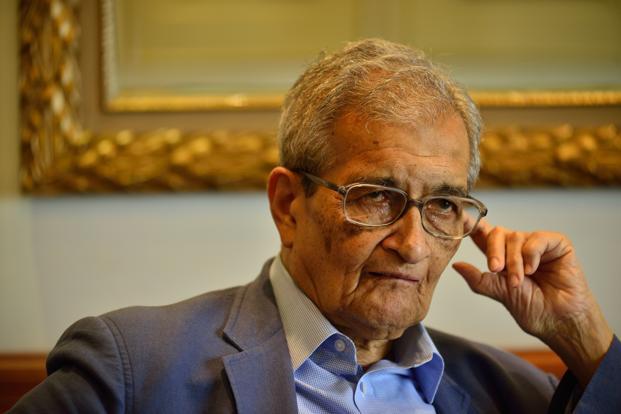 West Bengal BJP president Dilip Ghosh on Saturday drew flak after his personal attack on Nobel laureate Amartya Sen and questioning about his contribution to the nation. 
"We have a Nobel prize winner. He is a Bengali, he is alive. We are very proud of that. What has he achieved? Nobody in Bengal understands this. No one in the world understands it. I have doubts whether he himself understands it," Ghosh said while addressing a gathering here. 
Questioning Sen's contribution to the country, he said: "What has he given the country? Because he has got the Nobel, we are dancing in joy." 
"He is in extreme pain because he was removed as the Chancellor of Nalanda University. Such people are spineless and they can be purchased or sold, and can stoop to any level," he said while addressing a gathering here. 
Sen, who has long been a critic of Prime Minister Narendra Modi, had withdrawn his candidature for a second term as Nalanda University's Chancellor in 2015. 
In a letter to the Governing Board of the University, the Bharat Ratna awardee had said, "It is hard for me not to conclude that the government wants me to cease being the Chancellor of Nalanda University." 
Criticising Sen, the BJP state president, who is known for his controversial remarks, also said "There was a time when the farsightedness, ideology and self esteem of Bengalis was a matter of pride. Unfortunately, things have completely reversed today." 
The BJP leader faced strong backlash after his comment with civil society unequivocally condemneing him for vitriolic personal attack. 
Reacting to Ghosh's comments, former Lok Sabha MP Krishna Bose said, "I'm ashamed of hearing this sort of indecent attack on Sen."
Whole world knows Amartya Sen's contribution to economics and social sciences," said Bose, the widow of Netaji Subhas Chandra Bose's nephew Sisir Bose.
State Education Minister and Trinamool Congress Secretary General Partha Chatterjee said: "Dilip Ghosh has insulted all Bengalis and other Indians. Dilip Babu lacks knowledge. So he always flexes his muscles for survival. How can such person become state president of a political party?"
These comments are below my dignity and do not even qualify for criticism. I believe, comments like these also doesn't matter for Sen as the nation knows him well." 
Jadavpur University Vice Chancellor Surnajan Das also termed Ghosh's comments as "unfortunate" and "uncalled for". 
"To raise questions about Amartya Babu's scholarship and personality and sense of freedom is ridiculous. The entire world knows this, and Bengal is justly proud of that. But at the same time it is also true that these comments don't dilute his (Sen's) scholarship. We are proud of Amartya Sen," Das said.
Educationist Sukanta Chowdhury said the comments were "highly insulting".
"To even respond to such remarks would be tantamount to insulting Aamartya Sen. I will only say such distasteful and loose comments only end up vitiating the social environs." "What can I say, if somebody says even Amartya Sen does now know what he has achieved? I will only say such person's ignorance has no end. Those who make such comments only flaunt their ignorance," said thespian Soumitra Chatterjee.
Communist Party of India-Marxist politburo member Mohammad Salim said those who do their politics by using faith and religion can never accept scholarly persons like Sen. "Dilip Ghosh is already 'famous' for his utterances. Bengalis and other Indians will not accept such remarks."
Sen is known for his contribution to welfare economics, social choice theory, economic and social justice, economic theories of famines, and indexes of the measure of well-being of citizens of developing countries.
He was awarded the Nobel Prize in Economics in 1998 and India's highest civilian award Bharat Ratna in 1999. Sen has been stridently criticising PM Modi and recently flayed the demonetisation exercise carried out by the National Democratic Alliance government.