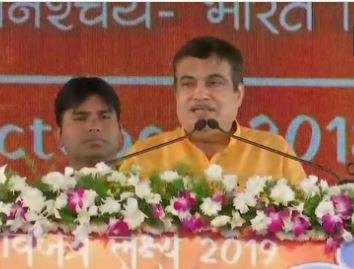 Union Minister Nitin Gadkari on Saturday said India is "a rich nation with a poor population" as those who ruled the country earlier benefited their own family members.
"We're a rich nation with poor population. Those who ruled benefitted their own families. Prime Minister gave birth to a Prime Minister, Chief Minister gave birth to a Chief Minister, MLA gave birth to an MLA. Democracy is close to being non-existent. We've to change this," ANI quoted Gadkari as saying in Hyderabad while he was addressing delegates at the Bharatiya Janata Yuva Morch (BJYM).
"Today there is Modi ji and Amit Shah ji. Leadership has kept changing but this party has never run on any particular person's name. This party functions on the basis of thinking and principles," he further said. 
He also clarified that the Bharatiya Janata Party (BJP) is not one family's party.
"BJP isn't one family's party. It isn't a party which does politics on basis of caste, religion, language. Vajpayee ji was our tallest leader, but BJP was never identified with his or Advani ji's name. Rajnath ji and I were its presidents, but it wasn't identified with our names," he said.
While talking about the interlinking of rivers Gadkari said, the Centre is committed to interlinking rivers to fulfil the water needs of Tamil Nadu, Karnataka, Andhra Pradesh and Telangana.
The minister for Road Transport and Highways said that under Prime Minister Narendra Modi's leadership, the government planned to interlink six rivers, which would cost about Rs two lakh crore.
"In Andhra Pradesh we took up the Polavaram irrigation project. We have spent Rs 7,000 crore so far. It is being constructed with central Government funds," he said. 
Gadkari alleged that some people were trying to mislead the public by saying that the government was not focusing on the project.
"We will complete the dam. The surplus waters of the Godavari river, which flows as waste to the sea, will be diverted to the Krishna river," he said.
"We will take water by diverting Krishna river water to Penna river and from Penna to the Cauveryr.Thus we will fulfil the water needs of Tamil Nadu, Karnataka, Andhra Pradesh and Telangana," he said.
(With inputs from agencies)