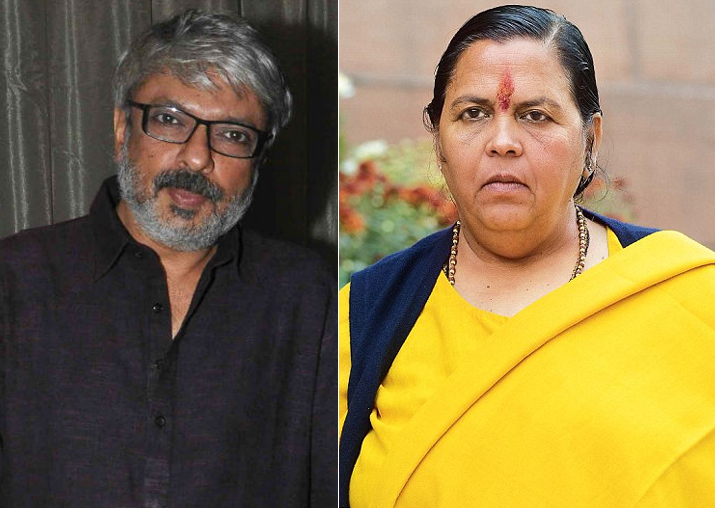 Union Minister Uma Bharti on Saturday once again took to Twitter to express her strong views against Sanjay Leela Bhansali's upcoming movie Padmavati, which has been making headlines for all wrong reasons.  
In an open letter, Bharti said that though freedom of thought gives us the right to either praise or criticise a fact,  making a film on a historical event doesn't give the right to wrongly depict the fact.     
In her strong criticism of Alauddin Khilji, the Union minister termed him an "adulterous attacker", asserting that he had an evil eye on Rani Padmavati, for which he ruined the entire Chittor. 
She further claimed that Padmavati's husband Raja Ratan Singh achieved martyrdom, along with his associates. 
"Even Rani Padmavati performer 'Jauhar', along with wives of martyrs, by throwing herself into fire," she said. 
"This is what we have read in history, and we have hatred for Khilji, and respect for Padmavati who sacrificed her life," added Bharti. 
The Union minister also likened Khilji  with those boys who throw acid on girls. 
"I have seen films of this director (Bhansali). I respect the freedom of thought and think that humans have the right to express what you think. But, there is a limit in what you express," said Uma Bharti in the open letter. 
"For instance, you cannot present sister as wife and wife as sister. This can be possible in case of animals but not in humans, may it be any country or community," she added. 
मेरा खुला पत्र #Padmavati pic.twitter.com/xXFqfVvlCt

— Uma Bharti (@umasribharti) November 4, 2017
She further suggested that everything should not be used for political benefits, adding that a solution should be found, and the controversy should be resolved. 
"As a proud woman I have to take care of the pride of every Indian woman - past present or future," the letter ended. 
Earlier today, Bharti suggested a way to end the Padmavati controversy forever. 
She tweeted in Hindi: "Why not form a committee with historians, the filmmaker, the protesters and the censor board and take a decision?"
In yet another Tweet, she said: "My request is that 'Padmavati' should be associated with the pride of Indian women and not the Rajput community."
Protests are going on in many parts of the country including Chittorgarh against Padmavati. Yesterday, a bandh was observed in Chittorgarh and markets remained closed for the day as various social and traders' organisations supported the protest.
Padmavati is slated to release on December 1 and stars Deepika Padukone, Ranveer Singh and Shahid Kapoor in lead roles.