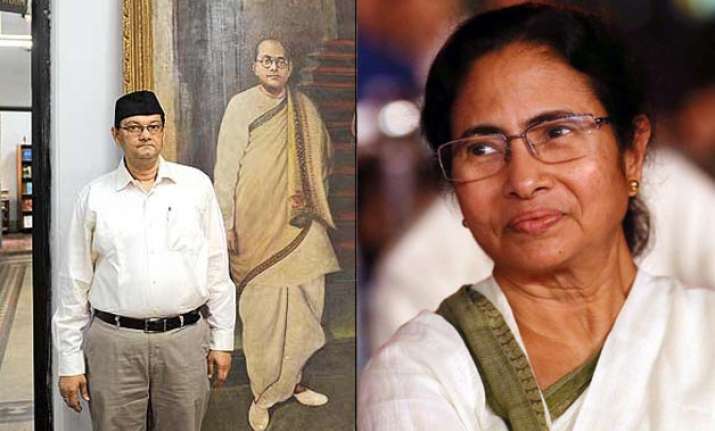 New Delhi: In a deft political move, the BJP has announced the candidature of Chandra Kumar Bose, grand-nephew of Netaji Subhash Chandra Bose, against Chief Minister Mamata Banerjee from Bhabanipur Assembly constituency in upcoming West Bengal Assembly elections.
That Chandra Bose, a former Tata Steel employee,  will play an important role for BJP in Assembly elections became clear when he formally joined the saffron party on January 25 this year.
Interestingly, the BJP inducted Chandra Bose immediately after declassifying 100 files related to Netaji Subhash Chandra Bose. Political observers clearly saw a pattern in these back to back events and predicted a significant role for Chandra Bose in BJP's scheme of things for upcoming Assembly elections.
Even the BJP leaders admit that the party badly needs a credible face in West Bengal. They have been on the lookout for a face in the state for quite some time but have not succeeded till date.
As far Chandra Bose is concerned, he is perhaps the best bet for the BJP in Mamata Banerjee's Assembly constituency i.e. Bhabanipur. In 2011 by-elections, Mamata had won this seat by a margin of more than 50,000 votes.
Chandra Bose may or may not win this seat but what is certain is  that in him, the BJP will have a face that the party can present to the electorate of Bhabanipur.
What about the face of the BJP at the state level? As the trends of recent elections in India suggest, the electoral politics have largely become personality-centric. Narendra Modi's historic victory in 2014 Lok Sabha elections besides Arvind Kejriwal's massive win in Delhi and Nitish Kumar's spectacular victory in Bihar are clear examples of elections in India fast becoming presidential contests  in nature.
Some people may see Chandra Bose as the new face of West Bengal BJP but the history of BJP suggests that the party is not very receptive of those leaders who do not come from RSS background.
And this is the biggest disadvantage for Chandra Bose as he does not have an RSS background. Not only this, being a political green horn, it remains to be seen if the people of people of Bhabanipur take him seriously and prefer Bose over Mamata Banerjee.  
The BJP has found its best bet against Mamata Banerjee in Bhabanipur but what about its face against CM Mamata Banerjee at the state level? The hunt  continues for The BJP.