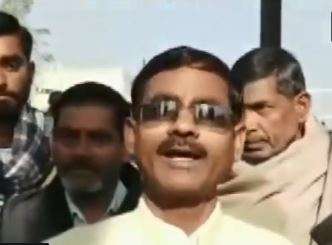 Vikram Saini, a Bharatiya Janata Party (BJP) MLA from Muzaffarnagar has sparked controversy with his comment that those who feel unsafe in India should be "bombed".
"My personal view is that those who say they feel unsafe and threatened in India should be bombed," news agency ANI quoted him as saying on Friday.
"Give me a ministry and I will bomb all such people, not even one will be spared," he added.
It may be recalled that recently actor Naseeruddin Shah, who is "angry" about the rise of mob violence, has said "poison" has spread in the Indian society where at some places, the death of a cow is given more significance than of a police officer, an indirect reference to the recent Bulandshahr violence where a police officer was killed allegedly by cow vigilantes. The actor raised concerns about the safety of his children who, he said, do not follow any specific religion, reported news agency IANS.
WATCH VIDEO:
#WATCH Vikram Saini, BJP MLA from Muzaffarnagar says 'My personal view is that those who say they feel unsafe and threatened in India should be bombed, give me a ministry and I will bomb all such people, not even one will be spared' pic.twitter.com/E9yWNH7MBF

— ANI UP (@ANINewsUP) January 4, 2019
Raj Babbar,UP Congress Chief on BJP MLA V Saini's remark 'will bomb those who feel unsafe in India': CM says 'thok do', MLA who aspires to be minister says will bomb ppl. He should be arrested and punished. He is speaking like a terrorist, must be probed for terror links pic.twitter.com/zngVbyknMG

— ANI UP (@ANINewsUP) January 4, 2019