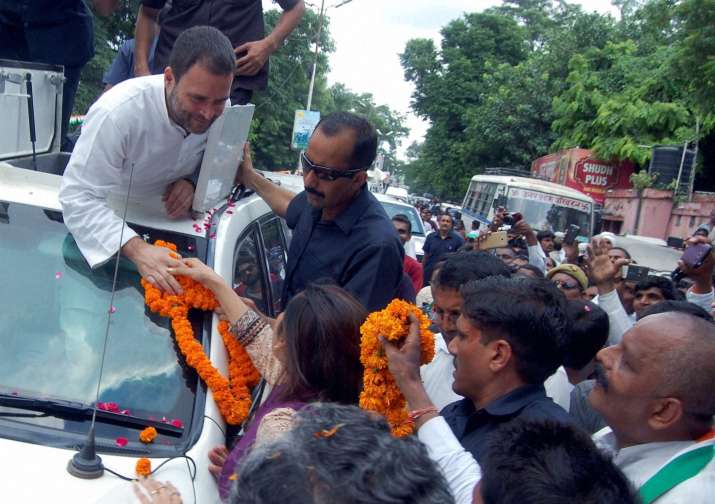 Congress Vice president Rahul Gandhi's political Yatra from Deoria to revive his party's fortune in the upcoming Assembly elections took off on a humorous note yesterday.
The grand old party was unprepared for this kind of embarrassment on the very first day of the Congress campaign. However, Rahul Gandhi , who was in Gorakhpur today, tackled the Khaat controversy rather tacitly. 
When asked that the participants of his Deoria rally stole Khats (cots), Gandhi said, "If a farmer takes a Khat he is called chor (thief), but when a millionaire like Mallya runs away with crores of loan, he is called defaulter."
If a Kisan takes a khat he's called a 'chor' but ppl like Mallyaji who run away with crores are called 'defaulters'! pic.twitter.com/iVSUlB6NQT

— Rahul Gandhi (@RahulGandhi) September 7, 2016
Gandhi's epic reply left the reporters in splits.
अगर गरीब खाट ले जाये तो आप लूट कहते हो,मगर जब Vijay Mallyaji जैसे लोग हज़ारों करोड़ रूपए ले जाएँ तो आप उन्हें Defaulter कहते हो-ये फर्क है!

— Rahul Gandhi (@RahulGandhi) September 7, 2016
On Tuesday, soon after Gandhi left, the venue turned into a battleground where villagers could be seen clashing with each other to take home the 'Khaats' (Cots).The participants who were supposed to relax on cots, instead chose to run away with them.
Out of the 4,000 cots to be used during these 'khat sabhas', around 1500 were used in Deoria alone.
"What happened was nothing but theft. The policemen just looked on. They did not stop them," an IPAC volunteer, who requested anonymity, told The Indian Express.
But those who took away the cots did not think so. "This is a gift from Rahulji. Congress has always done a lot for farmers," said Saraswati, a member of the Rajiv Gandhi Mahila Vikas Parijoyana.
It is to be mentioned that Rahul began his 2500-km long '27 Saal UP behal Yatra' from the Deoria district to New Delhi today with a slogan of 'Karz hoga maaf, bijli hogi half'.
Reports say party strategist Prashant Kishor's Indian Political Action Committee (IPAC) had ordered 4,000 cots from Lucknow for the programme. The idea was to place 1,500-2,000 cots, which can be easily dismantled, at one venue and rotate them later through different venues. At Tuesday's Khaat Sabha — the first of the two Gandhi addressed — there were about 1,200 cots.