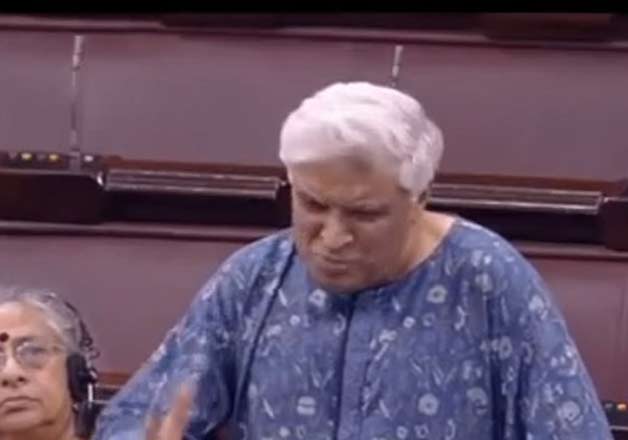 New Delhi:  Noted film personality Javed Akhtar Tuesday took a dig at AIMIM leader and MP Asaddudin Owaisi for saying he will not chant 'Bharat mata ki jai' because the Constitution does not ask him to do so.
"He (Owaisi) said he will not say `Bharat mata ki jai` as the Constitution does not require him to say so. The Constitution even does not ask him to wear sherwani (dress) and topi (cap)... I don't care to know whether saying 'Bharat mata ki jai' is my duty or not, it is my right," Akhtar said amid thundering applause in the Rajya Sabha.
Akhtar, who is retiring as Rajya Sabha member argued, "adjournments" and "polarisation" will not take the country forward as he pleaded with the opposition and government to work together without thinking about the next elections.
Akhtar was speaking in Rajya Sabha during the bonhomie organised for members who bade farewell to the Upper House.
Akhtar, who was nominated to the Upper House by the UPA government, said there are capable leaders in the Modi government who can do good work but those making extremist comments, including some ministers, need to be reined in.
I hope both Opposition and the government will work together. Adjournments will not take us forward. Even polarisation will not take us forward. Please forget next election and think about the country.
Akhtar's speech was heard with rapt attention and intercepted by thumping of desks by members across party lines.
At the same time, he condemned those right-wing extremists also who say Muslims should go to Pakistan. He also said that the "fringe" elements are rising and emphasised the need to protect secularism to save democracy and the Constitution.
Rejecting RSS chief Mohan Bhagwat's suggestion for chanting the slogan to infuse patriotism, Owaisi had on Sunday said he would not say 'Bharat Mata ki Jai' even if a knife was put to his throat.
( With PTI inputs)