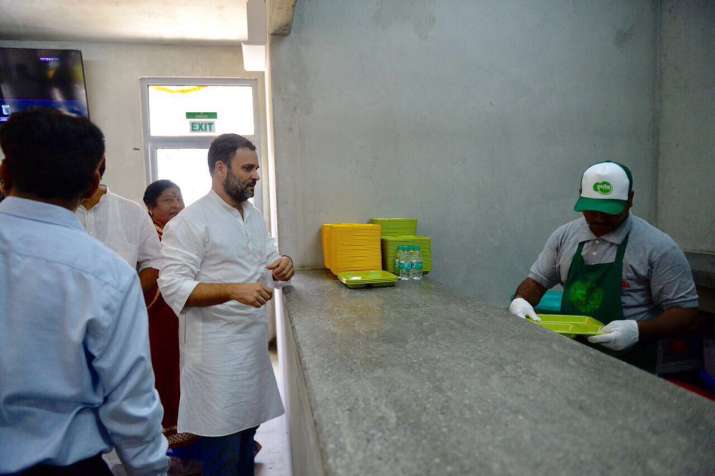 Congress Vice President Rahul Gandhi on Wednesday launched the Karnataka government's subsidised food canteens 'Indira Canteen' in Bengaluru that would provide breakfast at Rs five and lunch and dinner at a cost of Rs 10. The idea of the 'Indira Canteen' seems to have been borrowed from popular 'Amma Canteens' in neighbouring Tamil Nadu. Speaking after the inauguration of the first canteens, Rahul Gandhi committed more than a few faux pas. 
The Congress leader first said "every single city in Bengaluru" will have these canteens. Bengaluru is the capital city of Karnataka. He also termed the programme as Amma Canteen before realising his mistake and correcting himself.
"The chief minister (Siddaramaiah) has mentioned to me that Bengaluru is just the beginning. That he is going to expand this programme to other cities and soon over the next couple of months, every single city in Bengaluru, every single poor person in every single city in Bengaluru will feel that in the state of Karnataka, under Siddaramaiah government, 'I simply cannot go hungry'. That is the vision of Amma...Indira Canteen." 
The idea of Indira canteen has apparently been borrowed from 'Amma canteens' in neighbouring Tamil Nadu, introduced by former Chief Minister Jayalalithaa. 
The Siddaramaiah government had announced setting up of the canteens in the state budget for 2017-2018.
Initially referred to as 'Namma Canteen', the name was later changed to 'Indira Canteen' as Congress legislators sought to give a political touch to the populist announcement ahead of the Assembly polls early next year by naming it after former Prime Minister Indira Gandhi.
"There are many people in this city who live in huge houses and have plenty of food, who drive in big cars and for them food is not a big issue..but there are millions of people in Bengaluru like construction workers, those who own small shops, autorickshaw or taxi drivers, barbers and people who don't get that much money, and it is those people at whom this Indira Canteen is targeted," he said.
"We want the people from poorest and weakest sections in Bengaluru to feel that they will no have to stay hungry in this city. There cannot be a single minute where a poor person in Bengaluru is hungry. We want every single person to know and understand that," he added.
Chief Minister Siddaramaiah, Congress General Secretary in-charge of the state K C Venugopal, the party's state unit chief G Parameshwara and Bengaluru in-charge Minister K J George, among others were present at the event.
(With PTI inputs)