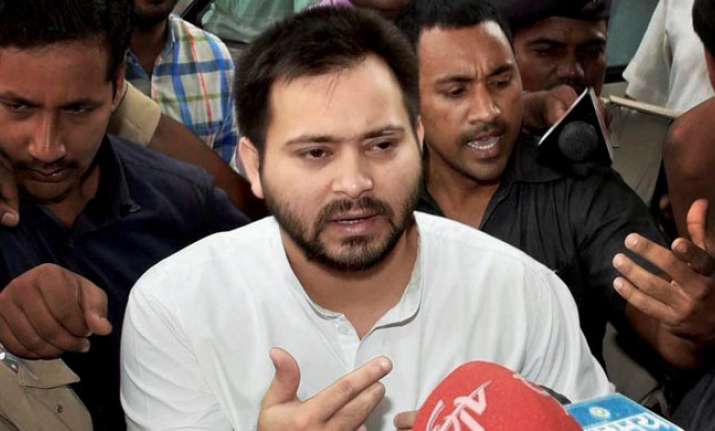 A day after Nitish Kumar-led JD(U) asked Bihar Deputy Chief Minister Tejashwi Yadav to 'place facts before the public to dispel graft charges', just stopping short of demanding his resignation, the latter has ruled out the possibility of quitting. 
Tejashwi, who attended the Cabinet meeting called by Nitish Kumar, along with elder brother Tej Pratap, termed the corruption charges levelled against him as a conspiracy hatched by the BJP government. 
"FIR against me is a political vendetta. It's a conspiracy by Amit Shah and PM Modi. From day one they have tried to break our alliance," Tejashwi told media after the meeting. 
Stating that the alliance is strong and will not break, he said, "BJP will get a fitting reply."
"They are bringing up cases of 2004 against me. How could I be a criminal at 13 or 14, I didn't even have a 'mooch' then! How can a kid of that age do all these things they are saying?" he added. 
Deputy Chief Minister Tejashwi Yadav, his father and RJD president Lalu Prasad and mother Rabri Devi, figured in the CBI FIR in the case related to three acres of land given to the family by a private party in return for licence given for hotels of IRCTC at Ranchi and Puri in 2006 when Lalu Prasad was railway minister. 
Targeting the BJP, Tejashwi said, "First, they feared my father (Lalu) and now they are nervous of me also and therefore they are targeting me". 
Playing the caste card, Tejashwi said that the BJP was targeting him because he came for backward caste. "People of Bihar elected me. I have been doing good work which has made the BJP and their leaders nervous. I am being targeted because I belong to backward caste," he said. 
Lalu Yadav has already made it clear that Tejashwi will not step down as the state Deputy CM. 
In an interview to a news channel, he categorically ruled out Tejashwi resigning from Nitish Kumar's cabinet, and described the CBI raids as part of a conspiracy hatched by Prime Minister Narendra Modi and BJP president Amit Shah to "finish off him and his party - RJD".