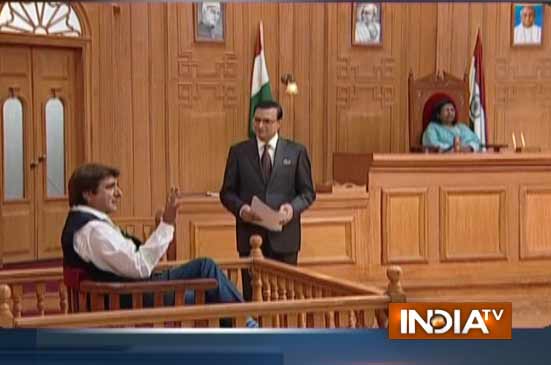 Uttar Pradesh Congress president Raj Babbar has said it was incorrect to say that farmers who came to the "khat panchayats" addressed by party vice-president Rahul Gandhi had filched the cots that were provided to them for sitting.
"The price of cots was not much and Congress workers were in any case not going to take them away after the meeting. The cots were meant for local villagers. 
"Our leader listened to the 'dil ki baat' (talk from the heart) of the villagers, and they later took away those cots because in the coming days, these villagers will sit on those cots and see their 'golden days' (sunehre din). When they will wake up on these cots, they will surely find the sun shining, there will be a Congress government, and  people will get justice", Raj Babbar said.
The Bollywood actor-turned-politician was replying to questions from Rajat Sharma in the show Aap Ki Adalat to be telecast tonight at 10 pm on India TV. 
"One should understand how things have gone wrong in UP in the last 27 years, when farmers, who had come to share their problems, took away cots on their heads, on motorbikes and bicycles. One should understand the pain behind this act", the Congress leader said. 
Asked why party leader Rahul Gandhi's words were not being seriously taken note of by the common people, Raj Babbar was quick to point out that there were people who do take Rahul's words seriously.
"They are the poor, the downtrodden, the farmers, whose battles Rahulji fought, who stopped government from forcibly acquiring their land, fought his own ministers and shaped the new land acquisition bill in favour of farmers, forced Prime Minister Modi to change his land acquisition law.
"Today Rahulji is demanding that the government should waive off Rs 50,000 crore worth farmers' loans, to save distressed farmers from committing suicide. He is saying an industrialist ran away to London after taking Rs 9000 cr loans, but farmers who are taking away cots are being branded as looters."
Asked whether Priyanka Vadra will be given a bigger role in UP, Raj Babbar replied: "Priyankaji's role has always been there. Soniaji, Rahulji, Priyankaji may be individuals, but I see the family as a unit. This family has made many sacrifices for the nation and the party. 
"Today there is political upheaval (uthal-puthal)  in the country over UP, and amidst this upheaval we are demanding that Priyankaji should play a strong and bigger role, and we hope that this will happen."
Asked about a reported suggestion by party strategist Prashant Kishore on projecting Rahul Gandhi as the CM candidate in UP, Raj Babbar replied: "Nobody has heard about this in the party. I don't know to whom he has said this. About Prashantji, I can say he may give his advice, but there is no such thinking inside the party, nor any worker has made any such suggestion."
Asked about his own view as PCC chief on this, Babbar replied: "Rahulji works for the downtrodden, he thinks about the nation. He should work for the whole nation and should not be confined to a particular state."
When Rajat Sharma asked why he was not made the CM candidate in UP, Raj Babbar replied: "Uttar Pradesh, in my view, does not need too many experiments.  In 2007 a government was formed based on inclusiveness of all castes, in 2012 a young face was projected and free laptops were promised, in 2014 another party promised to distribute Rs 15 lakhs, curb pricerise and give jobs to 2 crore youths. And now, after all these, there is no need for experiment with a man like me, I was entrusted with the work for which I had the skills."
Praising Congress CM candidate Sheila Dikshit, the state party chief said: "The Mughals had built Delhi, the Britishers built Lutyens zone, but Sheila Dikshit built the new face of Delhi post-independence. Nobody can dispute that. Moreover, she and her family originally hail from UP's Kannauj. UP needs development, the state needs an experience. When young people fail to run a family, the keys are handed over to the elders. I am confident Sheilaji at her age will handle the state effectively."
Raj Babbar lashed out at the Samajwadi Party saying that it was now confined to a family of 12 persons headed by Mulayam Singh Yadav. "There is socialism only for these 12 members, but no socialism for those outside. I have never personally attacked Mulayam Singhji, I only reiterated his own words when he said that the present government has failed to prevent loot, and that ministers were grabbing land.
Asked to react over Mulayam Singh's brother Shivpal Singh Yadav describing him as a "spent cartridge", Raj Babbar said: "Shivpalji is a small man. He wanted to do wrestling like Mulayamji, but failed, and now he is speaking about cartridges (laughs)."
On chief minister Akhilesh Yadav's comment that he was a "rolling stone", the PCC chief replied: "A bhatija (nephew) can say anything about his chacha (uncle)."
The actor-turned-politician said: "I have not ended my film career. Normally I used to do a film or two in between gaps of six months and a year, but now that my political responsibility is heavier, the gap has increased, but I will definitely act in films."
Babbar, a popular actor during the Eighties and early Nineties, said: "I faced financial losses after joining politics. When I first became a Rajya Sabha member, I had 63 films in hand, but in those days, there was a ceiling on actors signing up for not more than  10 films at a time. So, after completing 63 films, I stopped acting in films."
The actor, famous for his pathbreaking villain role in Insaaf Ka Tarazu, revealed that he was signed for the blockbuster film "Shakti", but being a new actor, the role was given to megastar Amitabh Bachchan.
"He (Amitabh Bachchan) was a star and I was a new actor. I have never disclosed this, but scriptwriter-lyricist Javed had revealed in a recent interview that the original role was meant for Raj Babbar. So I am making this revelation today."
Babbar disclosed how the audience hurled abuses at his villain character while seeing Insaaf Ka Tarazu, and his mother was watching the film. "While returning home in the car, my mother started weeping and told me - "beta hum kam khaa lenge, par tu aise kaam na kar" (we will eat less, but at least you never do such work). That day I felt my three years training in the theatre has left me vindicated."
Raj Babbar in Rajat Sharma's show Aap Ki Adalat will be telecast tonight on India TV at 10 pm. The repeat telecasts will be made on Sunday Sept 11 at 10 am and 10 pm.