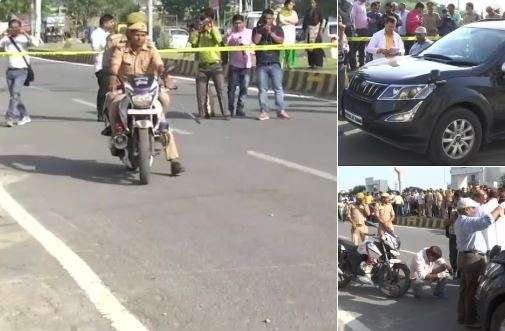 The Special Investigation Team (SIT) on Tuesday recreated the scene of the incident at the spot in Gomti Nagar, Lucknow, for further investigation in Vivek Tiwari death case. 
Vivek Tiwari's wife Kalpana Tiwai and the woman who was present with him when he was shot at by a policeman were also present. 
"SIT, forensic experts, ballistic teams & everybody else from the team was at the spot. We recreated the crime scene. The forensic & ballistic teams have noted down what they needed. We will analyse all the aspects now," ANI quoted IG Lucknow Range Sujit Pandey as saying.
On Sunday, Tiwari was cremated in presence of some Uttar Pradesh ministers and family members.
Tiwari (38) was shot at on Saturday by a constable while he was going to drop his colleague. The constable has been arrested and booked for killing the executive.
Meanwhile, politics has started on the death of the executive.
On Monday, former Chief Minister of Uttar Pradesh and Samajwadi Party president Akhilesh Yadav said the state government is trying to hide facts related to the killing of Apple executive Vivek Tiwari by a police constable.
He visited the victim's family and stayed with them for about 35 minutes.
He later alleged that the police and the state government are hiding details and the circumstances under which Tiwari (38) was killed on Saturday.
Cops are trying to confuse the line of investigation, he said. He also asked CM Yogi Adityanath to announce a compensation of Rs 5 crore to the family.
Yadav blamed the state government's policy of what he said were "staged police encounters" and said that rather than being repentant, many Bharatiya Janata Party (BJP) ministers in the state were coming across as indifferent and casual. He alleged that the BJP government was trying to instil fear among the people. 
Bahujan Samaj Party (BSP) chief Mayawati also demanded action against the accused. She asserted that since the BJP has come to power in Uttar Pradesh the law and order has gotten worse. She also demanded a high-level inquiry into the matter.
"Ever since the BJP came into power, there is no law and order in the state. The state now is governed by the goons camouflaged as cops, because of which all sections of the state are facing trouble. The latest example of the same is the murder of Vivek Tiwari. We demand that the accused police officer, along with the other officials involved, should be prosecuted. We also want a high-level inquiry in the case," she said.
WATCH VIDEO: Aaj Ki Baat with Rajat Sharma | October 2, 2018 
(With inputs from agencies)