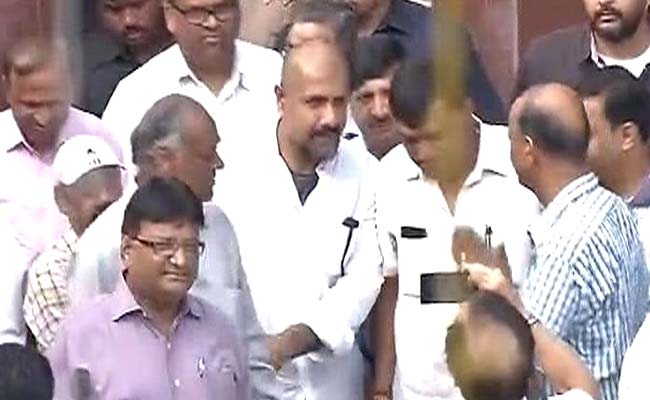 Music composer Vishal Dadlani, who has been in the eye of storm for his controversial tweet on Jain monk Tarun Sagar, today met the spiritual leader at his Ashram and tendered his apology.
"'Guruji' (Jain Muni Tarun Sagar) accepted my apology and think we've also developed friendship bond", Dadlani told reporters after he met the monk at his ashram in Chandigarh.
"I have realised a lot about myself in the last 10 days. I have come here as my eyes have been opened," he said.
Dadlani reached the Digambar Jain temple, Sector 27 at around 9.30 am and held a close door meeting with the monk that lasted for about 20 minutes. 
Sagar, on his part, said, "I have forgiven Vishal Dadlani and the Jain Samaj should also forgive him."
This is the third time Dadlani has profusely apologised for his controversial tweet.
The followers of the monk said Dadlani had sought forgiveness post the incident by tweeting at least 32 times. "And today he himself came down to seek forgiveness," they said.
Dadlani recently also put out an open letter addressed to Tarun Sagar and Jains. "As a concerned Indian, I should have been especially careful to be sensitive to the sentiments of followers of Muni Tarun Sagar ji. Especially after receiving his forgiveness, I realise what a magnanimous and generous heart he has, and what strength lies within the gentleness of the Jain people," he wrote. 
He described the monk as "gentle and kind" and said he was "hurt and disappointed" with himself and his ego. "It is that same ego that I hope to defeat, with your help. 
Mr Dadlani tweeted criticism of Shri Tarun Sagar also referred to as Maharaj-ji by his followers, for being invited to address all lawmakers in Haryana at the state assembly. He was critical of the speech describiung the event as "monkery" and said the monk "has no clothes on", suggesting that it reflected an unhealthy trend of religion colouring politics.
Dadlani came under criticism from various quarters including Delhi Chief Minister Arvind Kejriwal, for his tweet on the Jain monk's speech in Haryana Assembly.
Dadlani quit the Aam Aadmi Party (AAP) after his tweet was sharply condemned by Arvind Kejriwal and other party leaders.