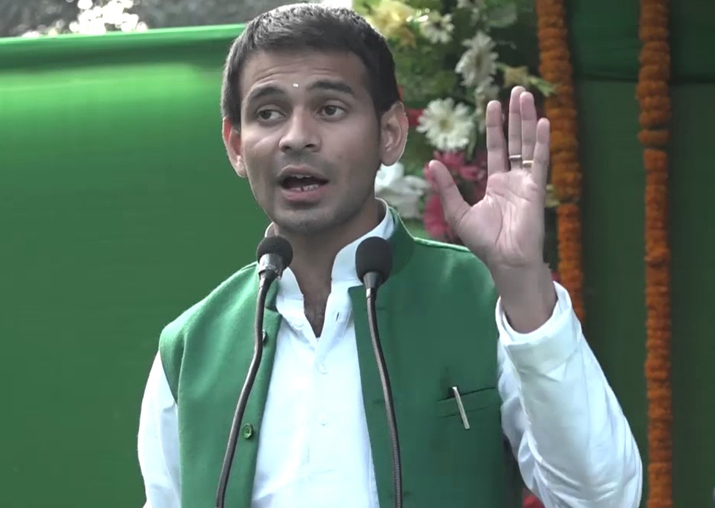 RJD supremo Lalu Prasad Yadav's elder son Tej Pratap Yadav has threatened to thrash senior BJP leader and Deputy CM Sushil Kumar Modi at his own house.
Speaking at a rally in Aurangabad, Yadav also vowed to disrupt the wedding ceremony of Utkarsh Modi -- Sushil Modi's son, by causing arson. The wedding is slated to be held on December 3.
"I will thrash him at his own house and set things on fire during his son's wedding in order to expose his ill-gotten wealth," he said.
Tej Pratap, who was Health minister in the Grand Alliance government, said that Sushil Modi has invited him to his son's wedding. He added that the BJP leader has done this insult him.
"He has called me to insult us. If I go, I will disrupt the wedding by causing arson and giving him a good thrashing at his home. "My fight with Modi is on and I know how to win it", he said.
Reacting to Tej Pratap's threat, Sushil Modi said that Lalu Yadav should educate his kids and such kind of actions invite bad image to the state.
"I had attended wedding ceremony of Laluji's all daughters. Invitation was sent to him… but this kind of language should not be used. Laluji should educate his children, it invited bad image to the state and to their family as well. If you want to attend the wedding ceremony, you are welcome.. if you don't want to attend, it is also okay," he said.
After poll debacle in November 2015, Sushil Modi had targeted the RJD supremo's family over various corruption charges. He had played a key role in exposing the wrongdoings of Lalu's family members.
Tej Pratap's remarks came after his mother and former CM Rabri Devi issued threats against Prime Minister Narendra Modi.
"BJP claims that if anyone will raise finger against Prime Minister Narendra Modi, then they break that finger and chop the hands. If they do so, will the people of Bihar and the country spare them? There are numbers of people here, who will slit his throat and chop his hands," she had said.