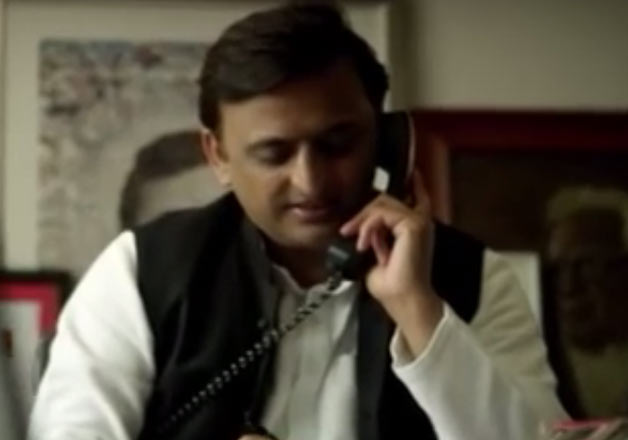 Akhilesh Yadav may have said that he has no plans to quit Samajwadi Party, but a campaign video featuring the Yadav scion and his family ( wife Dimple and two daughters) indicates that he is trying to break free of his party's archaic legacy.
Interestingly, the video features neither Samajwadi party nor his father-mentor Mulayam Singh Yadav.
The video opens with the pledge: "Every day I commit myself to the future of Uttar Pradesh". Cut to Akhilesh at the breakfast table, with wife Dimple Yadav and their children. Family, people and progress are a constant theme. "Uttar Pradesh, India... My family" is the final message.
In a departure from the usual amabassador, the UP CM is seen arriving at his office in a Mercedes SUV.
Earlier, anything costlier than khadi was considered an electoral risk.
Inside the posh new office, there is a telling shot of a pensive Akhilesh looking out his office window at the old assembly building right across.
In slow-mo, he talks to students, waves at crowds, faces a battery of cameras, assesses schemes, all in a day's work.
The video has impressive aerial shots of the new state secretariat.
He distributes relief material to Muzaffarnagar riot victims - a far subtler version of the Samajwadi's pro-Muslim pitch.
For a party whose appeal is seen as limited to rural UP, the campaign video has an urban appeal, a sign that Akhilesh, an environmental engineer, 
As the video ends, the Chief Minister is interrupted by his children during a meeting. He drops everything to play cricket with them.
At last, the video highlights the pro-people policies launched by the UP government including laptop distribution scheme,Samajwadi pension scheme,Lohia Awas Hosuing scheme,kanya Vidya Dhan scheme.