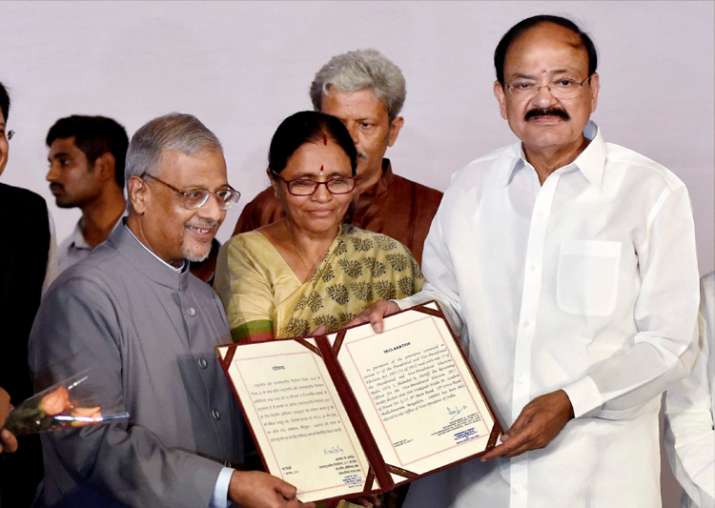 NDA's vice presidential nominee Venkaiah Naidu today was elected as the 13th Vice President of India. According to election officer Shemsher K Sharif, the voting, which began at 10 am, saw 771 members casting their votes out of the 785 members of the electoral college -- registering a voting percentage at 98.21 per cent. Sharif said that out of 760 valid votes, Naidu got 516 votes and UPA's candidate Gopalkrishna Gandhi got 244 votes.
Of the total 771 votes polled, Sharif said, 11 were found to be invalid. Although 785 MPs are there in both the Houses of Parliament, 14 MPs could not vote. 
"Coming from an agricultural background, I never imagined I would be here. Agriculture has no proper voice in Indian polity," India's Vice President-elect said. 
"I am very humbled. I am also thankful to the Prime Minister and all party leaders for their support. I will seek to utilise the vice presidential institution to strengthen the hands of the President and secondly uphold the dignity of the Upper House," he added. 
The strength of the electoral college comprising both elected and nominated MPs of Rajya Sabha and Lok Sabha is 790. While there are two vacancies in the LS, three seats are vacant in the RS also. One BJP Lok Sabha MP is barred from voting following a judicial pronouncement. 
In the 2007 VP poll, incumbent Hamid Ansari had polled 456 votes, Najma Heptullah 222 votes and Rashid Masood 075 votes. In the 2012 polls, Ansari had bagged 490 and NDA nominee Jaswant Singh 238 votes. 
A seasoned politician, Naidu, who had his political teeth cut in the RSS and later Bharatiya Jana Sangh, had been President of the BJP. Gopalkrishna, grandson of Mahatma Gandhi and C Rajagopalachari, is a bureaucrat-turned-diplomat, who was Governor of West Bengal. He was fielded by the Congress-led Opposition with backing from parties, including Trinamool Congress, Left, BJD and the Janata Dal-U. 
Soon after Naidu's election, Prime Minister Narendra Modi  greeted him on his victory and expressed confidence that he will serve the nation "as a diligent and dedicated Vice President, committed to the goal of nation building".
"My mind is filled with memories of working with Venkaiah Naidu in the party and the government. Will cherish this aspect of our association. My best wishes for a fruitful and motivating tenure," Modi tweeted.
My mind is filled with memories of working with @MVenkaiahNaidu Garu, in the Party & Government. Will cherish this aspect of our association

— Narendra Modi (@narendramodi) August 5, 2017
I am confident @MVenkaiahNaidu will serve the nation as a diligent & dedicated Vice President, committed to the goal of nation building.

— Narendra Modi (@narendramodi) August 5, 2017
Leader of Opposition in the Rajya Sabha Ghulam Nabi Azad also congratulated Naidu and said he was sure that he would give time and opportunities to all leaders and parties to express their views in the way the outgoing Chairman Hamid Ansari conducted the House.
Azad and CPI-M leader Sitaram Yechury said the fight was between two political trends. One wanted to strengthen the constitutional order. Both of them thanked Gandhi for agreeing to be the opposition candidate and for putting up a dignified fight.
Azad and Yechury claimed that the opposition has got 19 votes more than what it got in the recent Presidential election. They said they would go into issues like how many of their voters were absent or invalid and the reasons for that and take actions internally.
Born in 1949 in Chavatapalem in Nellore district, Naidu acquired law degree from Andhra University College of Law Visakhapatnam. He was a "swayamsevak" in the RSS and joined ABVP during his college days. He came to the spotlight for his role in "Jai Andhra" movement of 1972 and became the convenor of the anti-corruption Jayaprakash Chhatra Samiti in 1974. He held street protests against the Emergency.
He served three terms in the Rajya Sabha from Karnataka from 1998 and was elected for his fourth term from Rajasthan last year. He was a member of the Andhra Pradesh assembly twice in the 1980s.
Naidu was Rural Development Minister in the Vajpayee government between 2000-02. In Modi's government, first he was Parliamentary Affairs Minister as well as the Housing and Urban Development. From Parliamentary Affairs, he was shifted to Information and Broadcasting Minister which portfolio he held till he was nominated as the Vice Presidential candidate.
Soon after his election, a string of leaders of the BJP and allied parties and ministers went to Naidu's residence and greeted him on his victory.
Earlier, Prime Minister Narendra Modi, his cabinet colleagues and opposition leaders including Congress president Sonia Gandhi and Rahul Gandhi cast their votes to elect the country's next Vice President. Naidu, who is also a member of Rajya Sabha, left his house around 9.30 am and voted at around 10 am. He was accompanied by Parliamentary Affairs Minister Ananth Kumar and other BJP leaders. 
Besides BJP veteran LK Advani, Goa Chief Minister Manohar Parrikar, Uttar Pradesh Chief Minister Yogi Adityanath, Uttar Pradesh Deputy Chief Minister Keshav Prasad Maurya also cast their votes.
According to BJP, apart from the NDA's 81 Rajya Sabha members and 338 Lok Sabha members, members of both Houses -- of the AIADMK (50), YSR Congress (10) and the Telangana Rashtra Samithi (14) backed Naidu's candidature.
Click Here for more updates on Venkaiah's election as India's new VP