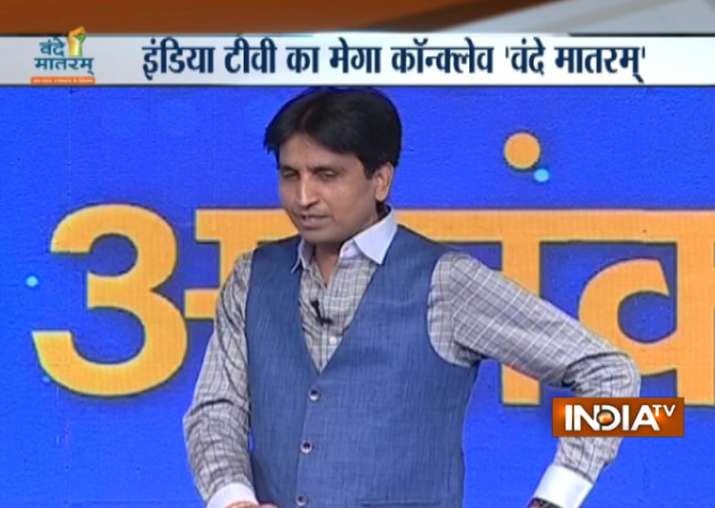 Poet-turned-politician and Aam Aadmi Party (AAP) leader Kumar Vishwas today slammed the Congress Party for extensively misusing the world 'secularism' in last 60 years for its personal gain. Speaking at 'Vande Mataram' – India TV's mega conclave against terrorism - the AAP leader asked the country's grand old party not to insult the word 'nationalism'. 
"Nationalism is a serious issue. Those who misused the pure word of 'secularism' for last 60 year, are from last 2-3 years speaking about nationalism. Merely the border don't define Hindustan, Hindustan mean 125 crore Hindustani, its jungle, land," he said.
"Don't play politics of over nationalism… so that mothers stop sending their children (in defence)," he added.
Vishwas also said that it is high time and everybody should refrain from criticising our Armed Forces. He took the opportunity to attack the NDA government for allowing officials from Pakistan's notorious spy agency ISI to visit frontier IASF base in Pathankot after the Pathankot Army base terror attack.
"When you protest against Ghulam Ali's show, you should also stop doing business… cement, electricity.. these must be stopped." "If you are showing respect (towards our Army), do it from your heart." 
In Pics: Vande Mataram India TV: We Should Avoid Fake Nationalism, Says Kumar Vishwas
"I had congratulated PM Narendra Modi when he met jawans on the occasion of Diwali. But I will speak when attacks like Uri take place and the govt remains in idle mode."
He urged leader from speaking unnecessarily on Army. "I had congratulated Army for the surgical strike. We should not speak anything against Army, instead increase their morale. Fight ideologically in the elections." 
On tension between India and Pakistan, he said, "I will never call for a war between India and Pakistan. They (Pakistan) are begging from others…. We (India) earn Rs 100 and send Rs 52 to US, France, Israel. They (Pakistan) earn Rs 100 and send Rs 68… These countries will never favour a peaceful solution."