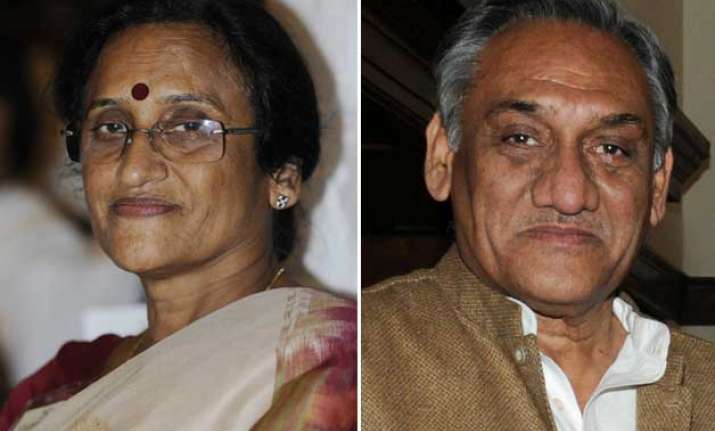 New Delhi: The Congress high command worried over the recent political developments in Uttarakhand that threaten to topple Harish Rawat government in the hill-state has reportedly asked Rita Bahuguna to persuade his brother and former Chief Minister Vijay Bahuguna against joining hands with arch-rival BJP.
If media reports are to be believed, the Congress has asked Rita to persuade Vijay Bahuguna who, along with Uttarakhand Agriculture Minister Harak Singh Rawat,  is leading the group of 9 rebel MLAs in the state. These 9 rebel MLAs have revolted against Harish Rawat-led Congress government in the state and are adamant on forming a new government in alliance with BJP.
These 9 rebels joined the BJP in the state Assembly in demanding a division of votes amid chaos on the state's annual budget that could have led to its fall. The Speaker refused to order a division and has now issued notices to the rebel Congress MLAs under anti-defection law.
Rita has already reached Dehradun and is trying her best to resolve the crisis using her relationship with Vijay Bahuguna. The Congress party had relied on Rita Bahuguna even in the past for resolving internal party feuds. She is believed to be sharing good relations with both his borther Vijay Bahuguna as well as Chief Minister Harish Rawat.
It should be recalled that when Vijay Bahuguna was made the Chief Minister of Uttarakhand, Harish Rawat had revolted and it was Rita Bahuguna who bought peace between the two leaders. In fact, Rita had persuaded his brother to accompany her to the residence of Harish Rawat for resolving the differences. The strategy clicked at that time as Harish Rawat finally relented and fell in line.
This time, it's the turn of Vijay Bahuguna to revolt against CM Harish Rawat   and the Congress high-command is once again relying on Rita Bahuguna to buy peace between the two warring factions.
That things will not be easy for Rita this time is clear from the fact that Harak Singh Rawat, once a close confidante of Harish Rawat, has now turned against Uttarakhand CM and has joined hands with Vijay Bahuguna and is leading the rebel MLAs along with the former CM. Political observers doubt if Harak Singh Rawat would listen to Rita Bahuguna.
If reports emanating from Uttarakhand are to be believed, even Vijay Bahuguna is not in full control of things. It is his son Saket who is said to be calling the shots and managing political affairs of his father. Political observers point out that even during Chief Ministership of Vijay Bahuguna,  it was Saket who was instrumental in managing the state including transfer-posting of senior bureaucrats.
Congress high-command is hoping against hope that Rita Bahuguna will succeed in making his brother see the reason in the best interest of the party but things have become so complicated that the task looks too difficult for her.