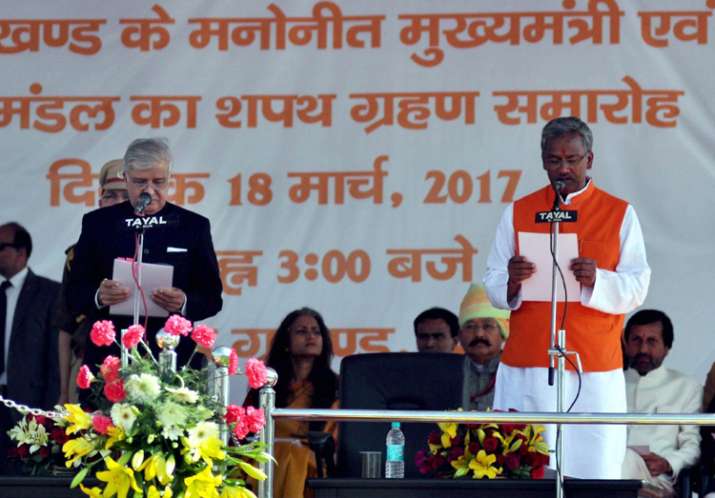 Uttarakhand Chief Minister Trivendra Singh Rawat today allocated portfolios among his council of ministers while he himself held charge of 40 departments including Home, Health and Vigilance. 
Trivendra Singh Rawat took oath as Uttarakhand CM on March 18. 
Satpal Maharaj, Harak Singh Rawat, Madan Kaushik, Arvind Pandey, Subodh Uniyal, Yashpal Arya and Prakash Pant were made Cabinet ministers. Rekha Arya and Dhan Singh Rawat took oath as ministers of state. 
Here is a list of portfolios allocated to Trivendra Singh Rawat's ministers:
CM Trivendra Singh Rawat: Home, Power, Health and PWD departments
Satpal Maharaj: Irrigation, Flood control, Tourism and Culture
Prakash Pant: Finance, Excise, Commercial and Entertainment tax
Yashpal Arya: Transport, Social welfare, Minority welfare
Madan Kaushik: Urban development
Subodh Uniyal: Agriculture
Harak Singh Rawat: Forest, Wildlife
Arvind Pandey: Education, Sports, Panchayati Raj
Dhan Singh Rawat: Higher education (MoS)
Rekha Arya: Women's welfare (MoS)