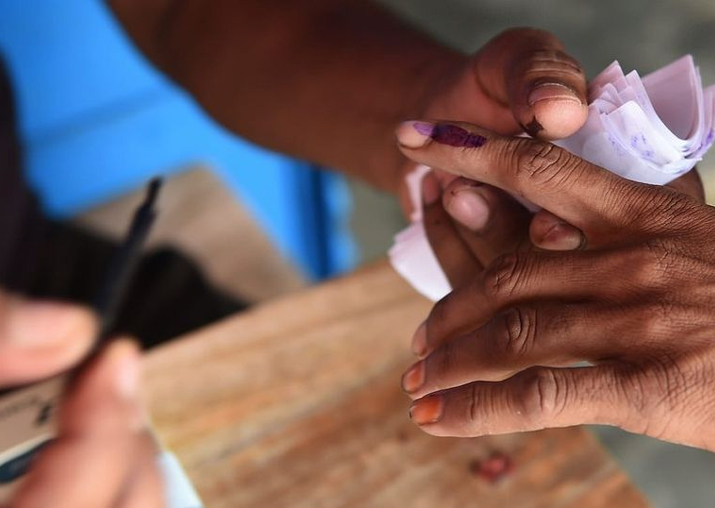 Uttar Pradesh will have civic polls in three phases from November 22, making it the first electoral test for the ruling BJP which stormed to power in the Assembly elections earlier this year with a massive mandate. 
"As per the schedule, 24 districts will go to polls on November 22, 25 districts on November 26, and 26 districts on November 29," State Election Commissioner SK Agarwal told reporters here. 
He said no central para-military force would be used for exercise, which will be conducted by the state police alone. "Counting of votes polled for 16 nagar nigam, 198 nagar palika parishad and 438 nagar panchayat will be done on December one," he said. 
Agarwal said 3.32 crore voters will be eligible to cast their ballots at 36,269 polling booths and 11,389 polling stations. 
Giving phase-wise details, he said the first phase will cover 24 districts in which 230 local bodies, spread over 4,095 wards, will got to polls. 
For this phase, there will be 3,731 polling centres and 11,683 polling booths with total over 1.09 crore voters. 
The second phase will cover 25 districts having 189 local bodies covering 3,601 wards. The polls will be held at 13,776 polling booths to be setup for 1.29 crore voters, he said. 
In the third and last phases, 26 districts will go to polls in which there are 233 local bodies spread over 4,299 wards. For this phase, there will be 10,810 polling booths for over 94 lakh voters. 
These polls, being held eight months after the BJP came to power with a landslide victory, will mark the first electoral test for the Yogi Adityanath government. 
The civic polls would indicate whether the 45-year-old priest-turned-politician has been able to maintain BJP's popularity level. 
Although, the BJP has traditionally been strong in the urban constituencies, the acid test for Adityanath would be to match the performance exhibited during the Assembly elections. 
In 2012, the BJP had swept the civic polls, winning 10 of the 12 mayoral posts. Lucknow mayor Dinesh Sharma is now a deputy chief minister of UP. 
The outcome will indicate the mood of the voters ahead of the 2019 Lok Sabha elections, say political observers. 
"Voting for local bodies is based on local issues... The masses will get a chance to register their disapproval of the anti-people BJP government," Samajwadi Party spokesperson Rajendra Chaudhary said. 
BJP spokesperson Rakesh Tripathi, while expecting a split in opposition votes, exuded confidence that his party would register an impressive win. 
"The results will also present an opportunity to the party (BJP) for course correction in their policies and governance," said political observer and academic Bharti Pandey. 
The SP and the Congress, which had forged an alliance in run up to the 2017 UP state polls, have decided to contest these elections separately. 
SP chief Akhilesh Yadav has said his party will have no alliance in the elections to urban local bodies and would contest them on its 'bicycle' symbol. 
Similarly, senior Congress leaders Ghulam Nabi Azad and Raj Babbar recently said the party would go alone in the urban local polls. 
The Bahujan Samaj Party (BSP) is also fighting the polls without an alliance. 
Even the Aam Aadmi Party (AAP) is gearing up to contest these polls. The AAP has already released its first list of 19 candidates for Lucknow Municipal Corporation election.
According to a release issued by the party, Priyanka Maheshwari is its nominee for the post of Lucknow mayor. 
The newly constituted Ayodhya Nagar Nigam and Mathura-Vrindavan Nagar Nigam will also go to polls this time. 
In a related development, the state government today declared Nagar Palika Parishad, Vrindvan and Nagar Panchayat, Barsana in Mathura district as "pavitra tirth sthal" (holy pilgrim place). 
After the declaration, special attention will be paid to these areas for development of facilities for locals and tourists. 
The declaration was made at the eleventh hour as the state election commission announced a three-phase polling for the local bodies.