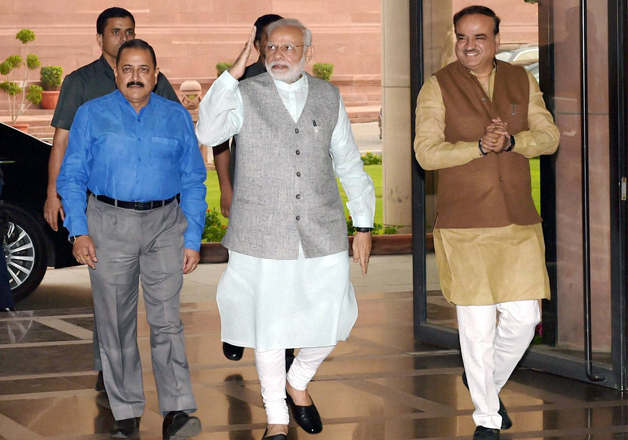 Close ties between India and the United States is known to everyone. And since the surprise victory of Republican's Donald Trump in the US Presidential election, there are talks how New Delhi will now deal with Washington.
While many say that Trump's win is a setback to India and its ambitious 'Make In India' programme, there are people who believe that the relationship which has received bipartisan support is set to continue improving.
Indian Prime Minister Narendra Modi, who has forged close working relationship with the US government, too said that he is looking forward to work with President-elect Donald Trump with whom 'he has good relations'.
On Donald Trump's 'shock win' in the race to the White House, PM Modi congratulated him and expressed hope that India-US ties will be taken to new heights under the new presidency. 
According to a Times of India report, PM Modi, who invested in developing a close relationship with now outgoing President Barack Obama, feels that the incoming Republican administration will be well inclined towards India.
At yesterday's dinner hosted by Lok Sabha Speaker Sumitra Mahajan ahead of the Winter Session, PM Modi interacted with political leaders and shared an informal assessment of Trump's win and its implications. He said that there was no reason to apprehend any dramatic change in bilateral relations.
During the 75 minute-long dinner-cum-discussion session, the rockier periods of India-US relations in the early 1990s was also figured when US diplomat Robin Raphel had referred to Jammu and Kashmir as 'disputed' territory and backed Pakistan.
During his two and a half-year-long tenure, one of PM Modi's significant successes has been his ability to work with Obama despite the apparent differences in their temperaments. 
It should be noted that, Trump, 70, is a confessed big fan of India and PM Modi. He had recently described India as 'a key, and key strategic ally' and lauded economic policies of the government saying 'he wants to work with him'.
US commentators have also noted that it is most likely that under Trump's presidency, both the sides will be looking forward to deepening their diplomatic and military cooperation.