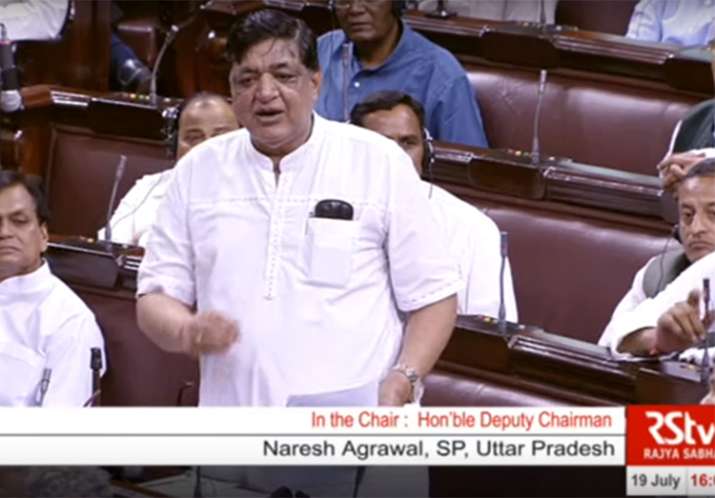 The third day of monsoon session of Parliament saw heated exchanges between the Opposition and treasury benches over incidents of lynching in the name of cow protection. While the Congress and other parties targeted the NDA government over violence by alleged cow vigilantes, it was the ruling MPs who were seen raising slogans in the House after Samajwadi Party MP Naresh Agarwal made a controversial statement.  
Targeting the Bhartiya Janata Party (BJP), Agarwal quoted a verse he said he once read somewhere in 1991 that juxtaposed alcohol and Hindu gods, a remark the BJP said hurt the sentiments of the community. Agarwal retracted his statement on protests from the treasury benches but that did not seem enough to BJP MPs who demanded an apology from the SP leader.
Agarwal was speaking during the debate in the House on lynchings in the name of cow and narrated an incident in 1991 when he visited a school that was turned into a jail. He said the names of some Hindu deities linked to some types of alcohol were written on the wall of the school.
Pointing towards the treasury bench, Agarwal said these lines were written by "your people". 
BJP members, including Ministers, demanded an apology from the Samajwadi member, shouting that they won't let anyone "insult Hindu Gods".
Parliamentary Affairs Minister Ananth Kumar led the charge on behalf of ruling MPs who demanded an unconditional apology from Agarwal. Kumar said Agarwal has hurt the sentiments of the majority population of the country. "He has hurt not a single person but the whole community," Ananth Kumar said. 
Finance Minister Arun Jaitley said if Agarwal had made the derogatory comments outside the House he would be liable to be prosecuted.
Deputy Chairman P.J. Kurien said Agarwal should not have made these remarks which "per se are derogatory" and should withdraw them. He ordered that the statement should be expunged from the records of the House.
The Samajwadi leader later said if his remarks had hurt the sentiment of anyone he was withdrawing them. But the BJP members refused to budge and continued slogan shouting.
Ram Gopal Yadav, Samajwadi Party leader in the Rajya Sabha, refused the demand, triggering huge uproar in the House. 
Amid slogans of "maafi maango, maafi maango (apologise, apologise)", Chair adjourned the House for 10 minutes.  The ruckus continued even after the House reconvened.
Amid the uproar, Congress MP Anand Sharma reminded the BJP that a Cabinet Minister (Smriti Irani) had once quoted from a pamphlet which insulted a Hindu Goddess and she did not even retract her statement. 
Kurien appealed the Opposition leaders to find a solution and again adjourned the House. After the proceedings resumed at 4 pm, Agarwal apologised after minister Ravi Shankar Prasad appealed to him.