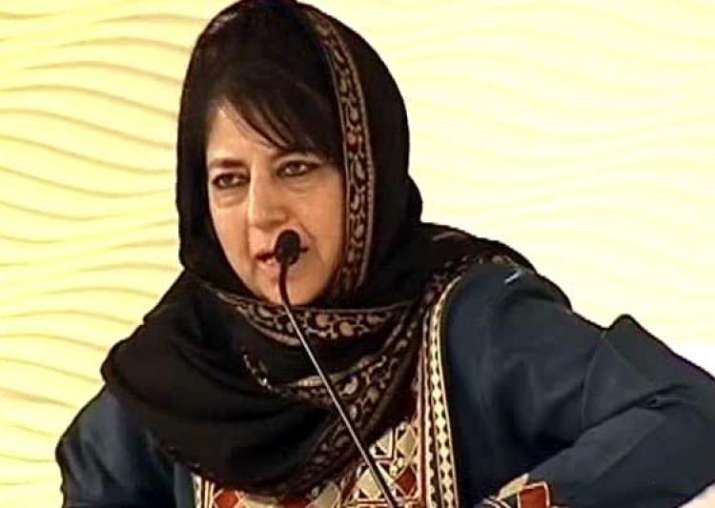 The Jammu and Kashmir Assembly today witnessed uproarious scenes over Chief Minister Mehbooba Mufti terming all those demanding abrogation of Article 370 of the Indian Constitution as "anti-nationals" on Monday.
According to a report in The Indian Express, the trouble began when Rajeev Jasrotia, BJP MLA from Kathua, requested the Speaker to expunge the remarks of Mehbooba Mufti from the record of the House. 
Jasrotia pointed out that every political party in the state has its own ideology. Without naming PDP and the opposition National Conference, he pointed out that some people were asking for  "self rule" and some others "autonomy". He added that his party too believed  that abrogation of Article 370 is the only solution to all the problems facing the state.
"How he can I be termed anti-national for having such political ideology," he asked the Speaker.
The Speaker Kavinder Gupta agreed to his demand and said, "expunged".
However, the Speaker's ruling evoked sharp responses from opposition members belonging to National Conference and Congress. They stormed into the well of the House objecting to Speaker expunging the remarks of the CM who also happens to be the Leader of the House.
"The chief minister also happens to be leader of the House and by expunging her remarks you are creating a history. I do not want such a history shall be created, so I request that let the CM come and clarify her position," former CM Omar Abdullah said.
The Speaker had to adjourn the house twice as the opposition members were unwilling to relent on the issue.
The Speaker, later on, said that he has not expunged the remarks of leader of the house.
 "Let me examine the record first," he said.
However, the opposition members continued to raise slogans against BJP which is the  coalition partner of PDP in Jammu and Kashmir.
Amid uproarious scenes, the House passed the appropriation bill for 2016-17 and the annual budget for 2017-18.
After that,  the Speaker adjourned the House sine die.