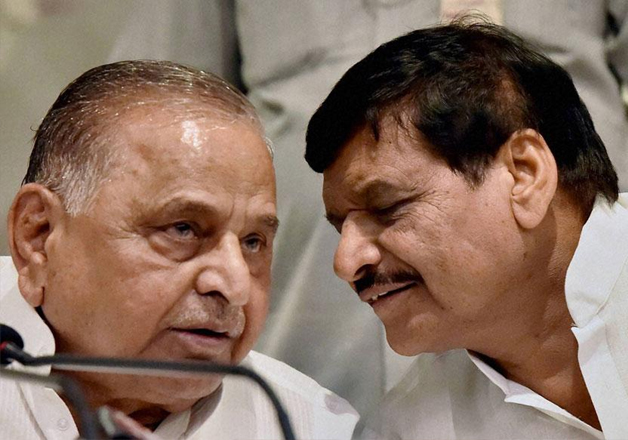 A day after the Election Commission ruled in favour of Uttar Pradesh Chief Minister Akhilesh Yadav in his claim for Samajwadi Party's symbol, the party chief met party patriarch and father Mulayam Singh Yadav today at the latter's residence amid expectations of a climbdown from the senior Yadav.
At the meeting, Mulayam submitted a list of 38 candidates to his son and now Samajwadi Party chief Akhilesh Yadav. 
Mulayam's list of preferred candidates, interestingly, had no mention of his younger brother Shivpal Singh Yadav who was seen as a major supporter of Mulayam in the father-son feud. 
The list, however, carries name of Shivpal's son Aditya Yadav. 
Besides, it also features the name of Mulayam's younger daughter-in-law Aparna Yadav, Om Prakash Singh, Narad Rai, Shadab Fatima and Gayatri Prasad Prajapati. 
Sources said that Mulayam Singh was set to agree to Akhilesh's request of not fielding his own candidates separately.
Shivpal's name not finding a place in Mulayam's list is significant as the patriarch had given preference to the list of his younger brother earlier, overlooking his son's choices, triggering an internal spat. 
Today's meeting between Akhilesh and Mulayam is the second meet after the Election Commission ruled in favour of Akhilesh Yadav-led faction of the UP's first family. 
Earlier in the day, Akhilesh said that he will take Mulayam Singh Yadav along and described the ties with his father and the SP patriarch as unbreakable.
Akhilesh said his priority was to form the Samajwadi Party's government again in the state and that he will take everyone along with him.
"I will take netaji (Mulayam Singh Yadav) along...my relation with him is unbreakable," he told reporters during an informal chat at his official 5 Kalidas Marg residence here.
"I was confident that I will get cycle. Less time is left, I will finalise the list of candidates. It's a big responsibility and I will take everyone with us," he said.
After getting the symbol yesterday, Akhilesh met his father Mulayam late last night and later tweeted three old pictures – one with father and two of the January 1 national convention – with the message: "Cycle chalti jayegi, aage badte jayegi" (cycle will run, and keep moving ahead).