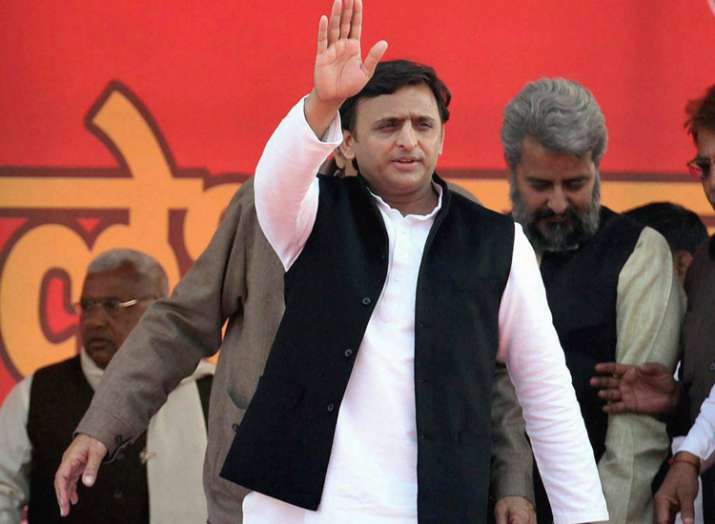 Samajwadi Party president Akhilesh Yadav today seemed to dismiss his uncle Shivpal Yadav's threat to float a new party saying that he has the blessings of his father and the "entire family is one". 
"The entire family is one... I have the blessings of Netaji... we will win over 300 (of the 403) seats in alliance with Congress this time," Uttar Pradesh Chief Minister told a public meeting in Sikandaru for the candidates of the SP-Congress alliance on Sadabad, Sikandarau and Hathras seats. 
Earlier in the day, Shivpal had said, "I will form a new party after March 11 when results (of UP Assembly elections) are out. You make the government, we will make a new party."
Addressing an election rally immediately after filing his nomination from his home constituency Jaswantnagar, Shivpal said, "I am thankful that I was given a ticket, otherwise I would have entered the fray as an independent candidate. I was all prepared for it. People wanted me to contest."  
"We will float a new political party on March 11," he added. 
"Where will our supports go? My own people were sidelined during ticket distribution," the senior SP leader said.
Akhilesh, addressing a rally at neighbouring Hathras district, also talked of his party's alliance with the Congress in the rally.
"I had come here in 2012 and today I come again and also brought the election symbol of Congress 'hand' with our own 'bicycle'. With hand, the bicycle will run faster," he stressed.
Cautioning people against Bhartiya Janata Party (BJP), Akhilesh alleged that it belonged to those who tell "lies".
"The Prime Minister speaks about his 'Mann Ki Baat' on TV but 'man to chanchal hota hai' it keeps changing its stand... people of the country were made to stand in long queues before banks and were subjected to trouble...the jobless were not given jobs and even those working in factories were rendered jobless because of the note ban," he said.
"The Prime Minister of the country said that your 'achchhe din' are coming soon but today people are longing for their old days and asking how can they be restored," he said.
Criticising BSP, he said its leader installed 'elephants' which do no work and have been standing idle.
Akhilesh also cited various development works undertaken by his government in the past five years.