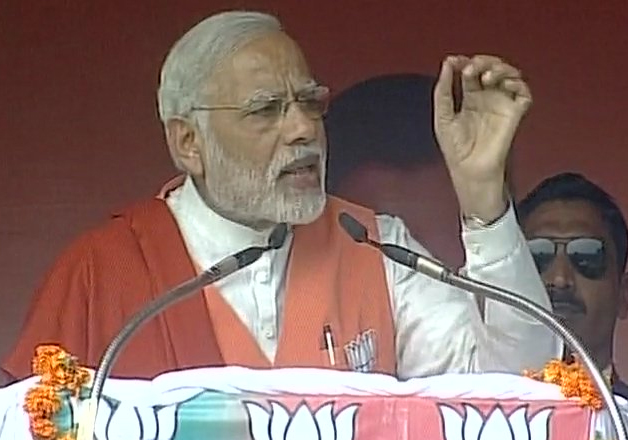 In an attempt to counter 'UP ke ladke,' Prime Minister Narendra Modi on Thursday called himself the "adopted son" of Uttar Pradesh while continuing his attack on Chief Minister Akhilesh Yadav. 
Modi said the future of the state cannot be ensured without ridding it of Samajwadi Party, Bahujan Samaj Party (BSP) and Congress. 
Invoking Lord Krishna at an election meeting here to suggest a strong connect between Gujarat and UP, Modi, who represents Varanasi Lok Sabha constituency, said the state was his 'mai-baap' (parents) and he will not desert it. 
"Lord Krishna was born in UP and made Gujarat his 'karam bhoomi' (land of work). I was born in Gujarat and UP has adopted me...Uttar Pradesh is my 'mai-baap'. I am not the son who would betray his 'mai-baap'. You have adopted me and it is my duty to work for you," he said in an emotional speech at a poll rally here. 
"Vote for a full majority to BJP government. I promise to show you the ways of all the problems you are facing within five years," he said, telling the impressive crowd that all pollsters have predicted BJP getting massive support in the first two phases of polling. 
Highlighting the problems faced by the state and its national importance, Modi said poverty will be removed from the country only when it is eradicated from UP. 
"This is the land of Ganga and Yamuna where the land is most fertile with crores of labourours but poverty still exists here...why is this so? There is nothing wrong with the people here or their capabilities or shortage of resources," he said. 
"It is the problem of the government's lack of intention (which is responsible for it). SP, BSP and Congress have not thought as to how the state should be developed...all those who had been at the helm have only worked to safeguard their votebank, help them in whichever way possible...the future of UP cannot be changed till it is freed of SP, BSP and Congress," he said.
Continuing his attack on Akhilesh Yadav's 'kaam bolta hai' (work speaks) slogan, the Prime Minister spoke about some central schemes, which he said, were not implemented in Uttar Pradesh by the Samajwadi Party government. 
"The Centre brought a scheme for providing free power connections to 1.25 lakh poor families but funds are lying here and UP has extended it only 13,000 households...will it harm Akhilesh if the poor families get it?... Who is responsible? ...Is this how your work is speaking? 
"...Your government is a failure. It is not working... Those who have run their government in this way do not have the right to survive for even a minute more," he said. 
Modi said only 14 per cent farmers got the benefit of the Crop Insurance Scheme for farmers in UP "because Akhilesh does not feel it is any work....Jinka kaam bolta hai, unka kisan nahi bolta ki bima mila hai (Those whose work speaks, their farmer does not say that they got insurance)," he said. 
"The police stations here have turned into the offices of Samajwadi Party. It is the SP worker who decides which case has to be filed and which not," he said. 
Alleging that maximum political killings and gangrape take place in UP, Modi said, "I want to ask the family-led government, are the mothers and sisters here not members of your family." 
He said 3,000 people die due to firing using illegal arms termed 'kattas' and asked as to who made these kattas. 
"Almost 50 per cent cases of those registered in the country under the Arms Act are in UP," he rued. 
"Over 20 per cent atrocities against Dalits in India take place in UP and no one gets punished...Isn?t illegal mining prevalent in Hardoi?...Who patronises illegal miners? Who is responsible for this?" he asked. 
Modi said no journalist can write against illegal mining. "If somebody dares, he gets killed. We must fight against this condition created by Akhilesh government," he said.
While talking about the work done by his government, Modi said it was for the first time that prices of fertilisers have come down since it was done by the Chaudhary Charan Singh government. 
On demonetisation, he said those who have looted the poor for 70 years will have to return it. "This is our fight against black money and graft as at the root of all ills is corruption which has taken deep roots...Every single paise has come into banks and it will be used for development," the Prime Minister said. 
Making an emotional appeal to voters, he said, "I realise the problems of the poor as I have lived through poverty...I have taken the responsibility of bringing change in their lives." 
Contending that unlike his detractors, his schemes were reaching grassroots level, he said Rs 11,000 crore power bills have been saved with the distribution of LED bulbs by the government under its UJALA scheme. Of these, 1.25 lakh have been distributed in Hardoi alone. 
Making a reference to opponents seeking evidence of surgical strikes, Modi, in a lighter vein, said after ISRO scripting history by successfully launching 104 satellites yesterday, he asked them to safekeep it (evidence) because it might be sought for as elections are underway in UP. 
The third phase of polling in the state is scheduled for February 19 and the results of the seven-phase elections would be declared on March 11. 
Later addressing an election rally in Barabanki, Modi said he could visualise an atmosphere of hatred in the state against SP, BSP and Congress. 
"Akhileshji when you took over five years ago, people had welcomed you. People had thought you are young and will do something for the state...You might not be free at this point but after March 11 when you get time once people send you packing, you can sit back and think as to why there is so much hatred against you," the Prime Minister said. 
"It is the 'karnamey' (misdeeds) of Akhilesh which are speaking up for him, not his 'kaam' (deeds)," he said. 
Seeking to reach out to the voters in Barabanki, Modi said, "what the son of UP (Akhilesh) has not been able to do, this adopted son (Modi) will do.... I don't have to read the plight of the poor in books as I have it in my 'zehan' (mind)." 
Modi went on to add, "Mayawati, who is referred to as 'buaji' (by Akhilesh), managed to provide power in only 23 villages in a period of two years...see the 'karnamey' of Akhileshji, he managed only three villages in two years and the 'adopted son' (himself) has got power to 1,350 plus villages." 
On SP-Congress alliance, he wanted to know the reason behind the ruling party's decision. 
"The followers of socialist thinker Ram Manohar Lohia, who opposed Congress all his life, entered into the alliance...Two months ago they went about from one village to another saying '27 saal UP behal' and suddenly embraced each other...Who are you afraid of?.....Samajwadis are saying 'aa gale lag jaa'...," the Prime Minister said. 
"Akhilesh ji, this (Congress) is 'doobi hui naav' (sunken ship)...in Lok Sabha elections they have been rejected by the people. You might look for whatever means, but Akhileshji your five years of misrule will not be pardoned by the people," he said. 
"In UP, 50 per cent of teachers (in government schools) have not been enrolled. Will someone tell where the children of poor will study? Are hospitals working properly? No. There are no medicines in hospitals. Poor can?t avail quality education and healthcare. What kind of development is this?" he asked. 
(With PTI inputs)