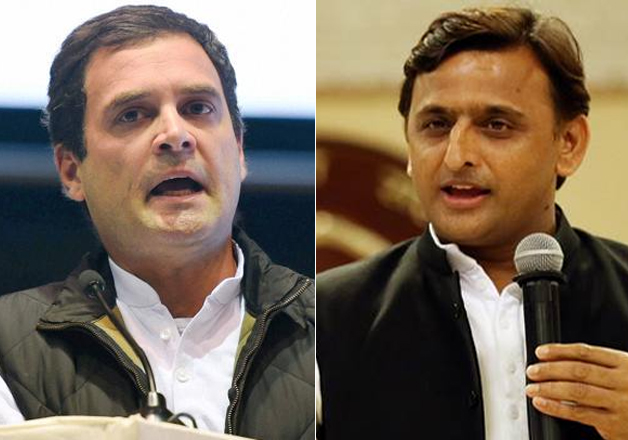 With the Election Commission recognising the faction led by CM Akhilesh Yadav as the Samajwadi Party, the alliance talks between the Uttar Pradesh's ruling party and Congress have gained momentum. 
According to information available with India TV, the pact has almost been finalised with SP offering 95 to 105 seats to Congress and latter agreeing to it. Sources said that Akhilesh had recently met Congress vice-present Rahul Gandhi and poll strategist Prashant Kishor to seal the deal.
Sources said that Priyanka Gandhi Vadra had played a crucial role in finalising the seat sharing agreement. She had also met Akhilesh's wife Dimple Yadav separately.
They said that the Congress had asked for all 29 seats which it had bagged in the previous assembly polls. Besides, the 37 seats where it was ranked second and few seats where the margin of loss was less than 5000 votes. 
In Rai Bareli and Amethi, the Gandhi bastions in the state, the SP has agreed to give most of the 9 seats. But it has noted that the party had not performed even 'satisfactory' in last election.
Sources even informed that the Samajwadi Party is also in talks to bring Ajit Singh-led Rashtriya Lok Dal (RLD) and some regional parties like the Peace Party on board to take on the BJP in the state assembly polls.
Reports are also doing the rounds that Akhilesh is in talks with his West Bengal and Bihar counterparts Mamata Banerjee and Nitish Kumar, respectively. Both the parties, if decides to join SP-led alliance, may be given two seats each.
Congress confirms alliance with SP 
Congress too has confirmed that it will enter the poll fray with Samajwadi Party.
"There will be Congress and SP alliance in upcoming UP elections. Details about it will be decided in coming days, for now can say there will be Cong-SP alliance under leadership of Akhilesh Yadav," party general secretary in-charge of Uttar Pradesh Ghulam Nabi Azad said today.
Both the Samajwadi Party and the Congress are keen to enter the poll fray together but the feud within Uttar Pradesh's first family had delayed the announcement of pact. 
While Akhilesh is looking to retain power, the Congress wants to be the kingmaker this time. The grand old party sees this as an opportunity to revive its lost fortunes. The party had secured just two seats in the last Lok Sabha elections with party chief Sonia Gandhi and Rahul Gandhi emerging victorious from their traditional seats of Rae Bareli and Amethi, respectively.
The Congress is in political wilderness in Uttar Pradesh since 1989 following emergence of divisive 'Mandal-Mandir' politics and rise of the BSP, which took away its crucial Dalit vote base.
Uttar Pradesh, the country's most populous state, will go to the polls in seven phases between February 11 and March 8. Results will be declared on March 11.