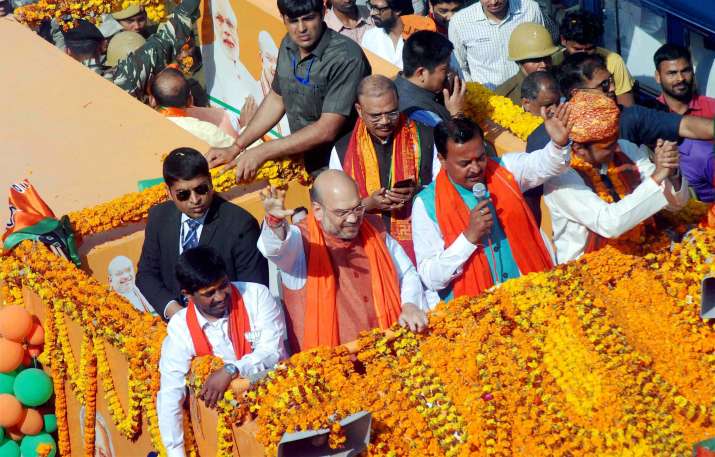 High voltage campaigning in elections for 53 assembly seats from 12 districts of Uttar Pradesh, which will go to polls in the fourth phase on February 23, ended on Tuesday evening.
With electioneering nearing to an end in seven-phased UP polls, the campaign in fourth phase was marked by offensive personal jibes.
Districts in Bundelkhand region -- Jalaun, Jhansi, Lalitpur, Mahoba, Banda, Hamirpur, Chitrakoot and Fatehpur -- are among those that will see polling on Thursday. 
Voting will also be held in Pratapgarh, Kaushambi, Allahabad and Rae Bareli, the parliamentary constituency represented by Congress President Sonia Gandhi. However, for the first time since 1998, Sonia gave campaigning a miss in her constituency. 
As many as 680 candidates are in the fray in the fourth phase of the assembly elections, including the maximum number of 26 from the Allahabad North constituency.
In the 2012 assembly polls, the ruling Samajwadi Party (SP) won 24 seats of these 53 seats at stake on Thursday, the Bahujan Samaj Party (BSP) 15, the Congress six, the Bharatiya Janata Party (BJP) five and Peace Party three.
Prominent candidates in fray include Utkarsha Mishra, son of former Leader of Opposition in the outgoing assembly Swamy Prasad Maurya; Independent Raghuraj Pratap Singh aka Raja Bhaiyya; Aradhna Mishra, daughter of Rajya Sabha member Pramod Tiwari; and Ujjwal Raman Singh, son of senior Samajwadi Party leader Reoti Raman Singh.
Racing against time to reach to the maximum voters, BJP president Amit Shah and Congress Vice President Rahul Gandhi and SP chief Akhilesh Yadav today held parallel roadshows in Allahabad. 
Campaigning for the fourth phase saw the leaders make personal attacks at each other. 
Prime Minister Narendra Modi repeatedly targeted the SP- Congress alliance and the BSP, particularly their leaders Akhilesh Yadav and Mayawati, respectively. Akhilesh and Mayawati hit back at him. 
"SCAM stands for SP, Congress, Akhilesh and Mayawati," Modi said in his election rally in Bundelkhand as he appealed to the voters to get rid of them. 
He also termed BSP as "Behenji Sampatti Party", to which Mayawati retorted instantly, saying the initials of Narendra Damodardas Modi stood for "Negative Dalit Man". 
"He (Modi) is anti-dalit...this negative dalit man does not like that common people give small contributions in running the BSP movement which is also run through donations," an irked Mayawati said. 
The Prime Minister, in one of the rallies, sought to suggest that the SP government had indulged in disriminatory supply of electricity on the basis of religion. 
Reacting to this, Akhilesh asked Modi to swear by 'Ganga Maiyya' (mother Ganga) if any discrimination had been meted out to his Lok Sabha constituency Varanasi. 
Amid the verbal free-for-all, Akhilesh also appeared to target Modi by making "donkey" remark while referring to an advertisement of Gujarat government in which megastar Amitabh Bhachchan promotes tourism in the state. 
Without taking any name, he advised the "biggest Bollywood actor of the century" not to "campaign for the donkeys of Gujarat". 
Modi, Akhilesh and Mayawati were among the host of leaders who made a beeline to backward and water-scarce Bundelkhand region, which also figures in phase-IV of polling. 
Rahul-Akhilesh, Amit Shah hold road shows in Allahabad on last day of campaigning
A sea of humanity flooded the streets of the 'Sangam' city on the last day of campaigning for fourth phase of assembly polls in Uttar Pradesh today, with road shows conducted by Rahul Gandhi with ally Akhilesh Yadav and BJP president Amit Shah. 
Rahul had stayed overnight at the historic Swaraj Bhavan here, the birth place of his grandmother and former Prime Minister Indira Gandhi, after holding a rally at Koraon in the district's trans-Yamuna region last evening. 
He was joined this noon by the Uttar Pradesh Chief Minister for their road show, which commenced at the Balson Chauraha (crossing) facing the historic Anand Bhavan. 
Perched atop a Mercedes bus, the leaders were greeted by a large number of young supporters of the Congress and the state's ruling Samajwadi Party who raised slogans like "UP ko ye saath pasand hai" (UP likes this alliance) and "Kaam bolta hai" (Work speaks for itself). 
As they headed towards the Allahabad University (AU) campus, a palpable enthusiasm was seen among the students. 
Two candidates in the city fielded by the Congress-SP combine - two-time MLA Anugrah Narayan Singh from Allahabad (North) and debutant Richa Singh from Allahabad (West)- have formerly been presidents of the AU students union. 
Besides, the Chief Minister's cousin and Badaun MP Dharmendra Yadav, who stood beside the two leaders during the road show, has been an AU alumnus. 
Towards the close of the road show on Station Road, the two leaders made very short speeches. 
The leaders said they will form the next government in the state and claimed the momentum gained by their alliance had made Prime Minister Narendra Modi jittery. 
A road show was held by BJP president Amit Shah, who started the day with a rally in Soraon, a predominantly rural assembly segment in the district's trans-Ganga region, followed by a brief public meeting at Mundera Mandi in the city in support of party national secretary Siddharth Nath Singh, who has been fielded from Allahabad (West). 
Lively crowds came out on streets to join the road show, raising slogans in support of the BJP and Prime Minister Narendra Modi. 
Shah was joined by the party's state unit chief Keshav Prasad Maurya whose Phulpur parliamentary constituency covers a major part of the city. 
Schools across the district were today ordered closed by District Magistrate Sanjay Kumar as traffic snarls were expected. Officials on election duty were also conducting poll-related exercises. 
Polling for all the 12 assembly constituencies in Allahabad, the largest number for any district in the state, will be held on February 23.