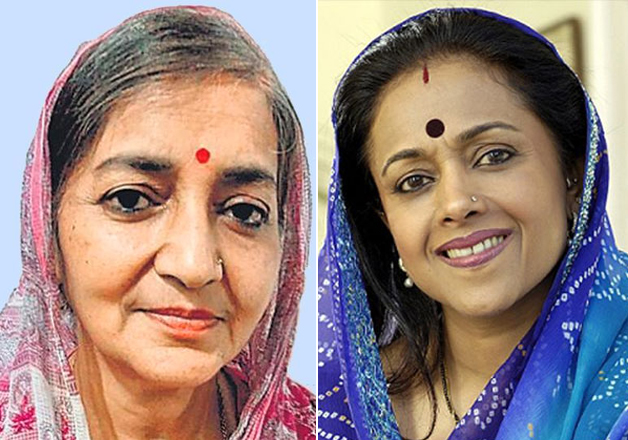 The Uttar Pradesh Assembly polls are a matter of prestige for the Congress party. While the party managed to enter an alliance with the ruling Samajwadi Party, the road does not appear easy for it yet.
In Congress bastion Amethi, the Lok Sabha seat of party vice-president Rahul Gandhi, the fight here is more for honour than that of votes. Here the arch rivals – BJP and Congress have given tickets to the two wives of Sanjay Sinh, a member of Amethi's royal family.
While Garima Sinh, the estranged wife of Congress's campaign committee chairman, is contesting on a BJP ticket, Sanjay's second wife Ameeta Sinh is in the fray on a Congress ticket. 
At her poll rallies, Garima, who returned to the palace with her son Anant Vikram Singh and two daughters a few months after the 2014 Lok Sabha elections, was hardly spotted speaking anything. 
Though making a late political debut, she is not a novice in the field. Garima is the niece of former PM VP Singh and is a descendent of the royal family of Daiya.
During the rallies, her daughters Mahima, Shaivya and Vikram were more involved with the local BJP leaders than her. They described her as 'charitravaan' (virtuous) before the people of Amethi to garner votes. 
Often, Garima was seen expressing her gratitude and appealing for votes with folded hands. Her silence now appears to be working as her 'strength'. She enjoys a fair amount of support among locals despite her long absence. Locals refer to her as the 'real Rani' who was deserted by her husband in the early 1990s.
"You are aware of the circumstances we lived in over the past few years. These forced me to come out. BJP thought I was suitable, and I want to use this opportunity to connect with the people of Amethi, who have wanted to see me for very long," the 61-year-old said.
On the other hand, Ameeta – a three-time MLA and former minister in the UP government, not only faces a tough fight from her opponent Garima, but also from the party's alliance partner SP. The party has fielded its controversial leader Gayatri Prajapati against the resident 'rani' here.
Garima and Ameeta are currently locked in a legal battle. While the Congress preferred to stay out of the family's infighting, the BJP 'utilised' the opportunity to field Garima to cause a major upset against Rahul, something Union Minister Smriti Irani has also been working hard for.
It is also believed that the saffron party may be betting on Garima for a bigger battle in next general elections when the party plans to show the exit door to the local MP here.
Polling in Amethi will be held in the fifth phase on February 27.