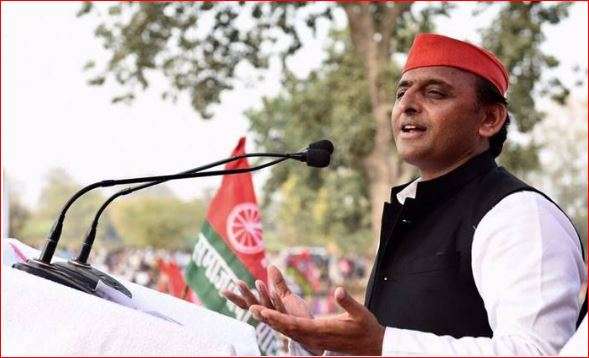 Refusing to take "donkeys" fight further, Uttar Pradesh Chief Minister today said that Prime Minister Narendra Modi is "out to change his course" as he "knows he has lost the (electoral) battle".
Akhilesh's statement came a day after Gujarat Chief Minister Vijay Rupani responded sharply to his controversial comment made apparently to target Prime Minister Narendra Modi, saying he had insulted Gujarat.
"The Gujarat Chief Minister has stated that UP CM does not know about the donkeys in his state, to which I say I do not wish to know about them (donkeys)...I only want to speak about the work done," Akhilesh said at an election rally in Bahraich.
"We have tigers, leopards here in Bahraich...We also have alligator in Katarniyaghat (wildlife sanctuary). I have no wish to take this thing forward," he said.
Akhilesh, earlier on Monday last had made an apparent attack on Modi by making "donkey" remark while referring to an advertisement of Gujarat government in which megastar Amitabh Bachchan promotes tourism in the state.
Without taking any name, he had "advised" the "biggest Bollywood actor of the century" not to "campaign for the donkeys of Gujarat".
Akhilesh's attack had followed Modi's accusation against him of indulging in discrimination in power supply on the basis of religion.
Reacting to the 'donkey' comment, Rupani had said on Tuesday that Akhilesh had insulted Gujarat. "I think Akhilesh Yadav is frustrated as he can see that his party is losing the Uttar Pradesh Assembly election,"Rupani had said.
Addressing the election meeting on Wednesday, Akhilesh again targeted Modi. "He (Modi) knows he has lost the battle and is out to change his course," Akhilesh said in reference to Prime Minister's 'Diwali-Ramzan, graveyard-cremation ground" comments.
"If we give 24-hour power on Diwali and also on Ramzan and Christmas, will it not benefit everyone?...I don't know what all the Prime Minister is seeing...since last Diwali we had decided that 22-24 hour power will be given to cities," he said.
"These BJP people can say anything to mislead people... you people need not believe in what BJP and BSP leaders say," Akhilesh told the gathering.
"If you want me to be the Chief Minister once again, every single vote should be polled in favour of the SP," he added.
(With PTI inputs)