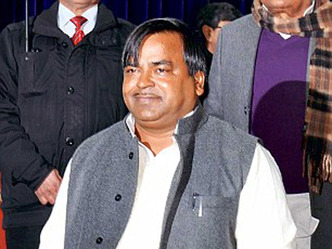 The Uttar Pradesh police today searched the official residence of cabinet Minister Gayatri Prasad Prajapati, facing probe for his alleged role in a rape case. 
The action was taken after the Supreme Court ordered to file an FIR in the matter. The apex court's direction had come on a petition by a woman who had alleged repeated gangrape by Prajapati and others and sought the court's order for lodging the FIR. 
"A police team had gone to his official residence here. It's part of the investigation. The minister was not found there. We have sent teams to Amethi also," a senior police officer said. 
Amethi is his assembly constituency where he was seen moving freely from one place to other to seek votes. 
He had also attended a public meeting with the Samajwadi Party chief Akhilesh Yadav campaigning for the party candidates, but he had left the stage before the chief minister arrived and sat among the audience. 
49-year-old Gayatri is facing imminent arrest following an FIR lodged against him and six of his accomplices on the apex court order at Gautampalli police station in the capital on February 18 under various sections of the IPC and POCSO Act. 
The Uttar Pradesh police had lodged an FIR against Prajapati on the apex court's order for his alleged roles in separate cases of gangrape and an attempt to rape another woman and her minor daughter. 
The alleged offence was first committed in October 2014 and was repeated till July 2016, but when the accused tried to molest the minor daughter of the victim, she wrote to the state DGP in October 2016, requesting the officer to take action. 
But when her complaint to the DGP went unheeded, she moved the apex court for justice. 
Prajapati had been sacked by the chief minister in 2016 during the family feud with his father Mulayam Singh Yadav and uncle Shivpal Yadav but was later reinstated in the council of ministers. 
With the police hot on his heels now, Prajapati has moved the apex court seeking protection from the arrest and recall of the its earlier order. 
Prajapti, who is contesting as an SP candidate from Amethi constituency, where polls are over, has denied the charges terming it a "political conspiracy of BJP" and said "he did not know the victim". 
(With PTI inputs)