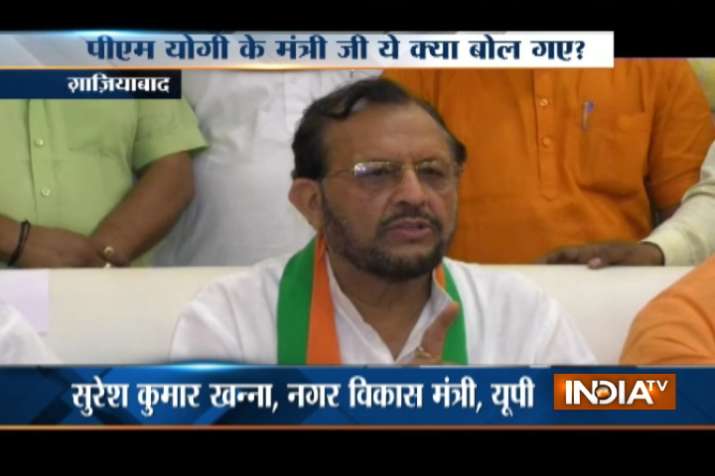 The Bhartiya Janata Party (BJP) rose to power in Uttar Pradesh on the promise to restore the law and order, but a minister in the Yogi Adityanath government does not think his administration can give a "crime-free society."
Suresh Kumar Khanna, a minister in Chief Minister Yogi Adityanath's Cabinet, on Thursday said that police cannot be deployed everywhere and no government can ensure a crime-free society, remarks that could trigger a political controversy.  
His statement came hours after four women were allegedly gang-raped and a man was shot dead by a group of armed criminals on the Jewar-Bulandshahr highway.  
"There cannot be a completely crime-free society… But the BJP government does not patronize criminals, like the previous governments did," he told media persons here.
The Parliamentary Affairs and Urban Development Minister, however, promised "strictest possible action" in the case. 
"We will take strictest possible action in the incident that occurred on the highway," Khanna said. 
The Yogi Adityanath government is facing flak over the deteriorating law and order situation in the state.
The incident, which is a horrific reminder of last year's Bulandshahr gangrape, took place near Sabota village in Jewar around 1.40 am when the eight people, including four women, were going to visit a relative undergoing treatment at a hospital in Bulandshahr in western Uttar Pradesh. 
According to the victims, six armed men forced the car, an Eeco van, to stop by shooting at its tyres near Sabota village in Jewar. The armed men took turns to rape the women at the gun point in a nearby field.
"We have constituted teams, including four teams of Special Task Force (STF) of Uttar Pradesh police to nab the accused persons. The women have been sent for medical examination. The teams are trying to identify the accused," Senior Superintendent of Police-Gautambudh Nagar, Love Kumar was quoted as saying by IANS.
A similar incident had triggered protests in July 2016 when a mother and daughter were gang-raped in Bulandshar. Opposition parties, including the Bharatiya Janata Party (BJP), had then accused the ruling Samajwadi Party (SP) of completely failing to protect the honour of women and ensuring the safety and security of people.
This time the ruling BJP spokesman and leaders are silent and trying to duck questions on the spiralling crime and failing law and order in the state in just two months of its rule.
(With agencies)