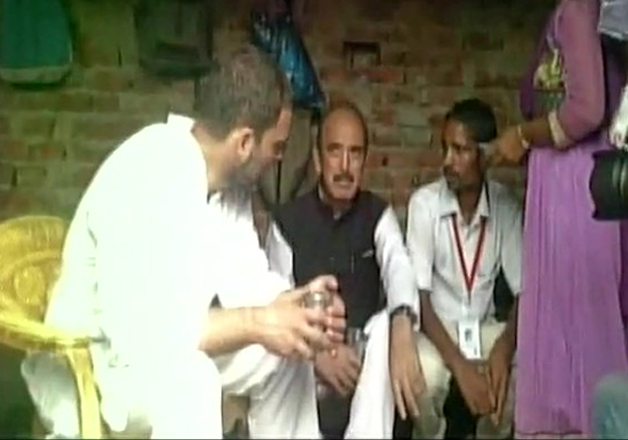 A Dalit family from Bada Gaon village of Uttar Pradesh's Mau district recently hosted Congress vice-president Rahul Gandhi and senior party leader Ghulam Nabi Azad for a meal during their ongoing 2500-km long 'Kisan Yatra'.
Leaders, who resort to such meetings and meals for photo-opportunities, perhaps don't realise that the burden it poses on the hosts. News agency ANI has reported that the family hosting Rahul was so poor that it didn't have enough food to feed the leaders. 
The family actually had to borrow flour, vegetables and the like to decently feed Rahul and Azad on Sunday.
On Sunday, the two leaders had visited Swaminath's home in Bada Gaon village where they were given treat of rotis and chokha (mashed potato).
"Rahul Gandhi was like a God to us so we had to prepare no matter what. Will repay the debt somehow," one member from the family said.
Swaminath said that the leaders enquired about their problems and assured of full support.
"Rahulji enquired about our living and the problems we are facing. I told him that we hardly manage to meet our basic needs," Swaminth said. 
However, in his chat with Rahul and Azad, Swaminath forgot to tell them at what cost he arranged the meal.
The family informed that their children were forced to give up on their education as they could no longer afford it. 
Rahul Gandhi is presently on a 2,500 km-long Kisan Yatra from Deoria to New Delhi. During his month-long march, the Congress leader will hold several Khaat Sabhas and roadshows to establish the party's connect with the people.