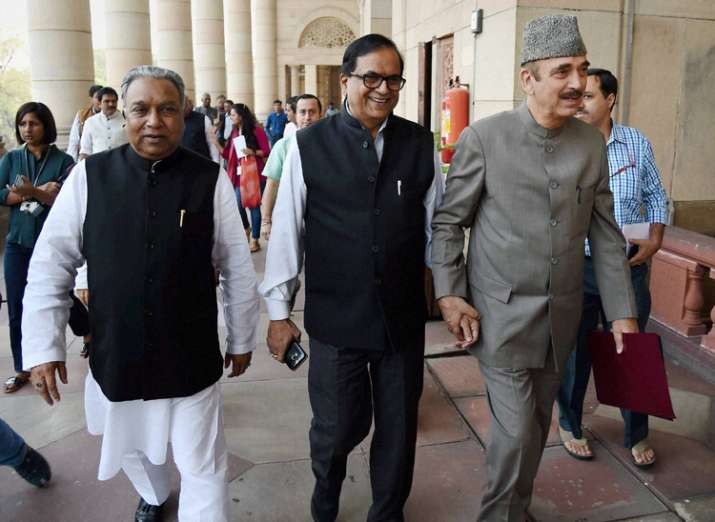 A united opposition, led by Congress, is seeking to pin down the government on the demonetisation issue in the Winter Session of Parliament beginning tomorrow.
The parties, however, could not come to a consenses on Trinamool Congress' proposed march to Rashtrapati Bhawan for meeting the President. 
On its part, TMC chief and West Bengal Chief Minister Mamata Banerjee said her party will go ahead with its plans to meet the President tomorrow. 
Representatives of the National Conference and AAP are likely to accompany the TMC delegation.
Bhartiya Janata Party ally Shiv Sena may also join the multi-party delegation to Rashtrapati Bhavan on Wednesday afternoon, following an invitation by Banerjee. 
Shiv Sena chief Uddhav Thackeray has discussed the fallout of demonetisation with  Banerjee, party MP Sanjay Raut said here on Tuesday.
Mamata Banerjee, who landed at Delhi airport in the evening, will meet her Delhi counterpart Arvind Kejriwal today. 
Opposition party leaders will meet again tomorrow to finalize the strategy on the issue agreeing at the meeting to use "all parliamentary tools including a demand for constituting a joint parliamentary committee to go into the issue and hold the government to account. 
At a meeting of 13 opposition parties including arch rivals TMC and CPI-M, besides BSP, SP, JD-U and DMK, opposition leaders unanimously concluded that it was too early to visit the President on the issue which must first be raised adequately in parliamentary forums. 
Various parties have separately given adjournment notices in Lok Sabha and for suspension of proceedings in Rajya Sabha to discuss the issue and highlight the plight of the common man. 
"So far as the march is concerned, there was unanimous decision by everybody that the march tomorrow is too early. As an opposition party, we must have a march in due course of time, but not on the very first day. On first day of Parliament, we must hold a discussion inside the House. 
"There was an overwhelming consensus that there is no need to rush to Rashtrapati Bhawan on the very first day before bringing this issue before Parliament," Congress leader Ghulam Nabi Azad said after the meeting.