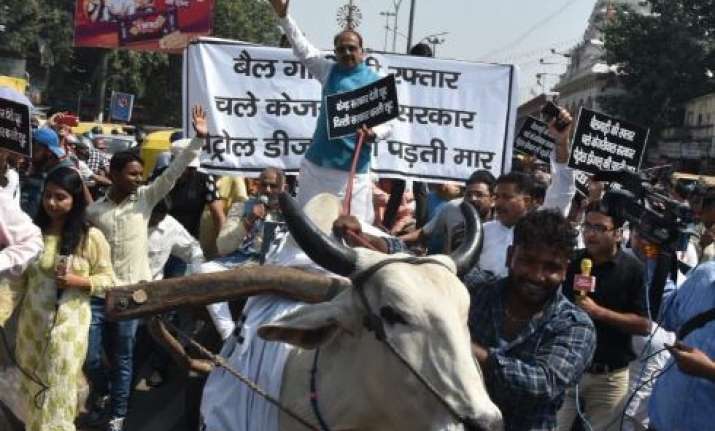 Union Minister Vijay Goel on Sunday rode a bullock cart in Chandni Chowk area of the national capital Delhi demanding that the state government must reduce prices of fuel.
On Thursday, the Centre cut petrol and diesel prices by Rs 2.50 per litre, a decision that was followed by several BJP-ruled states giving an overall relief of Rs 5 per litre.
The Centre's decision will result in a revenue loss of Rs 10,500 crore in six months, Finance Minister Arun Jaitley said. He also urged states to follow suit. However, Delhi government till now has not reduced the price of fuel.
He told a press conference that the cut will be effected through slashing of excise duty to the tune of Rs 1.50 per litre while the oil marketing companies (OMCs) will absorb the impact to the tune of Re one.
"The notification in this regard will be issued today and prices will be applicable immediately afterward," he said.
The Centre's decision was announced after high-level consultations involving Prime Minister Narendra Modi, BJP president Amit Shah, Finance Minister Arun Jaitley, Petroleum Minister Dharmendra Pradhan and Railway Minister Piyush Goyal.
However, calling the excise duty cut on fuel 'cheating', Delhi Chief Minister Arvind Kejriwal on Thursday demanded that the Modi government reduce duty by Rs 10 per litre.
"Modi government had hiked excise duty by Rs 10 and reduced it by only Rs 2.50 today. This is cheating. The Centre should reduce excise by Rs 10," he said in a tweet in Hindi.
(With inputs from agencies)