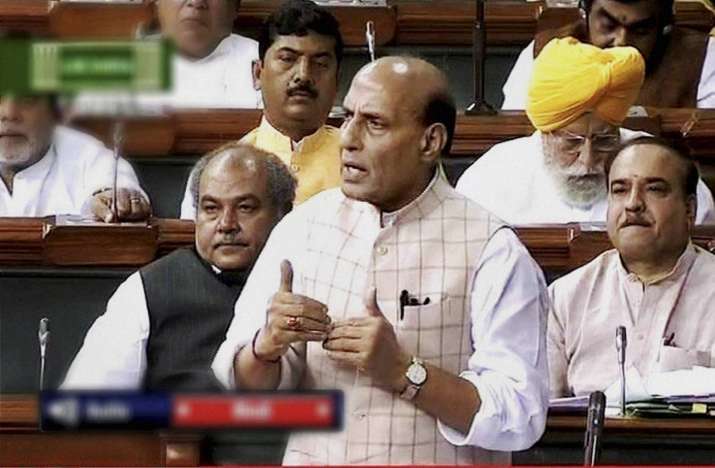 New Delhi: Under attack over recent dalit incident in Gujarat, Home Minister Rajnath Singh today rejected the charge that atrocities against the lower caste community had increased in NDA rule and asserted in Rajya Sabha that the government will not tolerate such incidents at any cost. 
Rajnath Singh said the Gujarat government has taken prompt action in the case involving thrashing of some dalits by cow protection activists and had arrested 16 accused and suspended 4 police officials including an Inspector. 
While rejecting demand of CBI probe, Singh said that CID is investigating the case and the chargesheet would be filed within 60 days
The state government is also working to set up a special court to try this case within six months, he said. 
During the day-long debate, the opposition blasted the government over attacks on dalits and minorities, alleging that a "Taliban-like attitude" was prevailing in some parts of India and questioned Prime Minister Narendra Modi's silence over such issues. 
Responding to the opposition charges, Singh said: "Our government will not tolerate any physical violence or verbal abuse against dalits". 
The Home Minister rejected the opposition charge that cases of atrocities against dalits have increased in last two years and said he could reel out figures of such incidents that took place under Congress rule. "But these things will not help. We have to think about solutions".
The Home Minister said some incidents against dalits have taken place in all states and not only in Gujarat. 
Condemning the incident at Una in Gujarat, he said: "16 people have been arrested. Four police officials, including one Inspector and two Assistant Sub-Inspectors, have been suspended. The case is being investigated by CID crime branch." 
Singh said this incident is "unfortunate, serious and condemnable" and justice should be delivered in six months. 
"We don't want to delay this case. We want that justice should be awarded quickly," Singh said, adding the state government has written to Gujarat High Court for setting up of a special court for day-to-day hearing. 
While answering the criticism, the minister said the Modi government had taken a number of initiatives to empower dalits. In this context, he named Jan-Dhan Yojna and Stand Up programme for the welfare of people including those from Scheduled Castes and Scheduled Tribes. He also talked about the government's steps to provide LPG connections and toilets to every family. 
"We have taken many steps for empowerment of dalits and poor," Singh said. 
On derogatory remark against BSP leader Mayawati by a leader of BJP's Uttar Pradesh unit who has since been sacked, Singh said: "I felt ashamed when I came to know. The Leader of the House (Arun Jaitley) has already expressed regret over this". 
"Dalit women are mother, sister and daughter of every Indian," he said, adding those indulging in such acts should be condemned by the society as well. 
Contending that such incidents occur due to "perverted mindset which cannot be changed only through law", he stressed the need for social-cultural movement to change this mindset. 
Political organisations would have to paly an important part, he said, while urging all parties to run social programmes to change the image of political class. 
"Faith in politicians and political system has declined. We need to take the loss in credibility as a challenge". After Rajnath Singh's reply, Congress member Kumari Selja wanted to say something about the Gujarat incident but the Chair disallowed it, following which the party members staged a walkout. 
Earlier, Leader of Opposition (LoP) Ghulam Nabi Azad targeted the government, questioning why it is "not able to control such incidents". 
He said earlier such issues of atrocities against dalits, attacks on minorities used to be discussed once in 5-10 years, but now such discussions are becoming very common. 
"The government talks of making India the world's largest economy but I want to know how will you make it the world's largest economy by alienating 40-45 per cent of the country's population," the Congress leader said. 
Contending that "The society has broken down" and "connected only by a thread", he referred to TV shows where people are pitted against each other to spew venom. 
"It is being said that television does not impact while showing such incidents, then why was television banned in Kashmir," said Azad, who hails from Jammu and Kashmir, while referring to the recent developments in the state. 
Azad said the government is angering around 20 per cent minorities and 23-25 per cent dalits in the country. 
He questioned the silence of the Prime Minister over such issues, including unrest in Kashmir. 
He referred to Rajnath Singh's remarks that the Prime Minister has called him from abroad and inquired about the situation in Kashmir and had held a meeting on Kashmir as soon as he returned from his foreign tour. 
"I want to say, why did he not issue a statement from abroad. In last 14 days in Kashmir, the United Nations issued a statement, the US did, but our PM did not come out with a statement appealing to all and calling for an all party meeting to discuss a solution to the problem," he added. 
He further said the situation is "bad" in the country, in the most sensitive state -- Kashmir --, violence in Gujarat and the incident with Mayawati, but no statement from the Prime Minister. 
"It looks like as if the government is not worried, let Gujarat burn, let dalits die," he added. 
Earlier, initiating the discussion, senior JD(U) leader Sharad Yadav there was a "Taliban-like attitude" and it was matter of shame that even after 70 years of independence, atrocities against dalits, especially women, were increasing. 
He sought a ban on 'Gau Rakshaks' (cow vigilantes) operating in some parts of the country. 
"Who created these 'Gau Rakshaks'? Why doesn't the government ban them? What is this tamasha? .... We talk about Taliban ... our caste system has a Taliban-like attitude, we need to discuss that," Yadav said. 
Congress and other members joined him, saying the incident only exposes the real face behind the "Gujarat model" being "propagated" by the Prime Minister. 
Contending that the youth were joining such groups because of rising unemployment, the JD(U) leader said "in Gujarat, these Gau Rakshaks say 33 crore gods and goddesses live in the cow. Such superstitions are being spread in this country." 
Congress leader Anand Sharma also questioned the silence of the Prime Minister, saying he talks on everything but has not spoken on this issue. 
"What is the compulsion that despite being the Prime Minister and having been Chief Minister of the state for 12 years that he has not expressed pain on this incident? He has not condemned it. Had the Prime Minister of the country condemned it and promised action, it would have made an impact," he said. 
He then took a dig at BJP leaders, saying he was not suggesting to them that they should go and tell this to Modi as "it is difficult to make him understand". 
He demanded that the Home Ministry should make a list of such vigilante groups and take action against them. His party colleague leader Ahmed Patel said the situation in Gujarat was "explosive" as dalits were attempting suicide and warned that if urgent steps are not taken to control it, then the situation might explode. 
He cautioned that the Centre should ensure that the recent "shameful" incident does not turn into a communal one ahead of next year's Assembly elections in the state. "You have talked about Sabka Saath, Sabka Vikas, but the situation is just the opposite." 
Patel said the real face of the Gujarat model of development was being exposed now. "We have always said that Gujarat model worked for the benefit of few industrialists. They (BJP) have always divided the society and ruled." 
He said the centre should not have "arrogance" of having absolute majority" and steps should be taken to reach out to people. He also questioned why Gujarat Chief Minister Anandiben Patel met the victims only yesterday even though the incident had taken place over a week ago. 
Balwinder Singh Bhander (SAD) called for an all party meeting to deliberate on how to tackle such issues (atrocities against dalits) and that people should desist from giving a political colour to such incidents. 
Satyanarayan Jatiya (BJP) said there is a need to analyse such incidents and find a solution. 
K Keshava Rao (TRS) called for the need to revamp the laws and at the same time change the mindset regarding issues related to dalits. 
He suggested creation of fast track courts to take up cases relating to atrocities against dalits. 
(With PTI inputs)